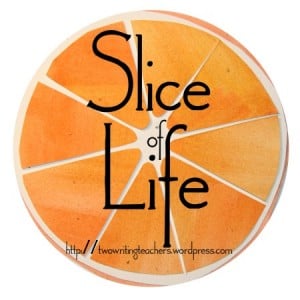 I'm taking part in the weekly Slice of Life Challenge sponsored by  Two Writing Teachers, where teachers write and share each Tuesday. Join in yourself or head over to check out what's happening with other slicers. If you're taking part in the SOL, leave a link to your post. I'd love to read it.
Charleston, South Carolina, offers so many things to see and do–Rainbow Row, stately plantations, history and art museums, Fort Sumter, mouth-watering food, the Angel Oak, ghost tours.  My family and I tried to do it all the week we spent there on vacation, but what was on the top of my daughter's list of things to see?  Battery Park.
Really?  I couldn't figure out why she was so adamant about visiting Battery Park.  Yes, it's filled with lovely live oaks draped with Spanish moss and overlooks sailboats gliding across the harbor, but it's a park.  Then as we drove past on a bus tour and glanced the gazebo, it hit me.
"You want to see the place where Piper, Hazel, and Annabeth had tea with Aphrodite in Rick Riordan's The Mark of Athena."
She grinned in response.  It seems I wasn't the only one who was touring Charleston with a book in mind.  We saw several sites connected with The Mark of Athena in addition to the gazebo at the Battery.  No monsters were fighting within the walls of Fort Sumter, but I could picture them there.  We even saw a model of the USS Hunley outside the Charleston Museum (where Jason, Frank, and Leo went while the girls had tea with Aphrodite).  The original Hunley has been recovered from the bottom of the ocean, but it is still undergoing restoration.
While my daughter saw monsters and demigods lurking just out of sight among Charleston's landmarks, I glimpsed scenes from the pages of another series:  Virals and Seizure by Kathy Reichs.  The ferry to Fort Sumter took us by the lighthouse on Sullivan Island, the sight of an important discovery in Virals.  We drove past the Karpeles Manuscript Library, where the pack researches the secret behind Anne Bonny's treasure.   We even took our best tour of the city–Alphonso Brown's Gullah Tours–because I wanted to learn more about the Gullah language and culture from first reading about them in these books.
Charleston is not the only place I wanted to visit based on literary inspiration.  I could vacation for years to come visiting places I first read about.  Here are my top destinations.
Prince Edward Island:  L.M. Montgomery first took me to Prince Edward Island where I discovered the village of Avonlea and the House of Green Gables and the Lake of Shining Waters.  I dream of visiting this island for myself one day.
England:  One of my English professors (Dr. Knight with Romantic Poetry) at Meredith College made us promise to one day hike the Lake District with Wordsworth's journal in hand.  I haven't made it to England yet, but when I do, I will spend a day or two tramping through the fields and watching the daffodils.  While I'm in England, I want to visit Canterbury Cathedral (Chaucer's The Canterbury Tales), the Globe Theater and Stratford-upon-Avon (Shakespeare, of course), Paddington Square (my daugther has a Paddington Bear from the station), and Platform 9 and 3/4 at Kings Cross Station (Harry Potter)l.  If I could find my way to Hogwarts or Diagon Alley, I'd visit there, too. I suspect my trip to England will need a lengthy stay to include a jaunt to Wales and Stonehenge (Susan Cooper's The Dark Is Rising series).
Pioneer Tour:  I travelled across the prairie in a covered wagon with Laura, Mary, Carrie, Ma, and Pa in the Little House books.  I'll need a whole tour to recapture those pages.  I can start in DeSmet, South Dakota, and visit the homes and school that are found in By the Shores of Silver Lake.  Then I'll have to drop down to Mansfield, Missouri, to visit the home of Laura, Alphonso, and Rose–and where Laura wrote the Little House books.  Somewhere on this trip, I'll have to camp on a covered wagon trip.
What are the literary trips you would like to make?