I am taking part in the Making Connected Learning MOOC sponsored by the National Writing Project.  I have wanted to learn to use more technology (It seems to come out faster than I can keep up) and then share those tools with my students.  This first cycle invites us to create something to introduce ourselves.  I've played around with several of the possibilities.
I've been eyeing–or is it earring–podcasts for awhile, but just felt completely overwhelmed  by getting started.  Many thanks to Kevin and Terry who created this podcast with two easy options for getting started.  Here's my introduction of myself to the clmooc community.
I used the ipadio app to create this first podcast introduction.  It was very easy to create, but I'm still figuring out how to best share it.  That may go better from visiting their website on a computer.  Once I'm back in the classroom or on a computer, I want to check out Vocaroo.  It looks even easier.
Since one of the options was to make a physical object, I spent Sunday afternoon creating these storage canisters.  I love words and books.  I can't even bare to part with them once they are falling apart and have lost pages.  I broke down and joined Pinterest just to look for ideas on how to create things with old books.  Now I have some pretty cool containers to store scrapbooking supplies.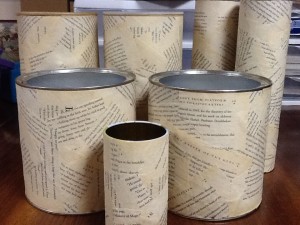 I'm looking forward to trying out some of the other ideas and sharing them, too.