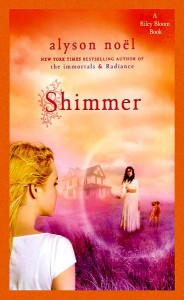 Alyson Noël continues Riley's story (begun in Radiance) with Shimmer (Scholastic 2011).  Riley may accept that she is dead and must let go of her life on earth to complete the tasks set before her by the Council, but she is still headstrong and impulsive.  This time while vacationing on one of the Virgin Islands with her dog Buttercup and guide Bodhi, she impetuously decides to help a ghost cross over without waiting for an official assignment.  Rebecca, though, may be more ghost than Riley can handle.  This vindictive spirit is determined to punish everyone around her in the prison of their worst memories.
I was surprised by the historical twist in this novel, but it is a good surprise.  I can't say I enjoyed it because Rebecca is trapped in the decidedly unpleasant era of slavery.  Rebecca is angry because she was brutally murdered during a slave revolt.  As Riley meets the ghosts of those slaves, she shares in their horrific memories from their life as slaves.  I found my stomach roiling with the brutal violence of some of their memories.  The first slave ghost she meets is Prince Kanta, who has somehow found peace within himself to break free of Rebecca's world, but he refuses to leave, to cross over, while his slave brothers and sisters are still trapped.  It may be too much for Riley to accomplish on her own, but can she do it with the help of Prince Kanta and Bodhi (who, by the way, is adamantly opposed to getting involved)?
In the end, this is a story of the remarkable power of forgiveness as it struggles against the desire for vengeance.