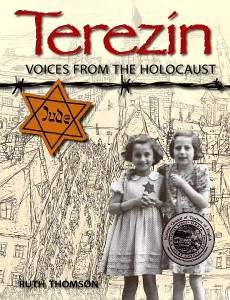 Ruth Thompson has collected a haunting assortment of images and writings from Terezin, a small fortress town in the Czech Republic that the Zazis turned into a Jewish ghetto during World War II.  Thousands of Jewish people from across Europe were imprisoned here.  Many of them left for their deaths at Auschwitz.  The ones who remained struggle to survive the harsh physical conditions and debasing treatment by the Nazis.
Words quoted from the letters, journals, diaries, memoirs, and interviews of the Jewish people who were transported to Terezin tell the story of deception and cruelty.  It begins with Hitler's rise to power in Germany and subsequent invasion of Czechoslovakia.  It continues with the passage of laws that placed more and more restrictions on Jews until they were gathered onto railway cars–freight cars, not passenger cars–and deposited at Terezin.  In spite of impossible conditions–starvation, disease, hard labor–the people of Terezin carried on.  Teachers taught children in secret.  Musicians and professors gave concerts and lectures.  Artists who were supposed to draw propaganda for the Nazis also created secret drawings that showed life as it really was at Terezin.
The drawings of these brave artists fill the pages with raw emotion.  There is such stark contrast between the drawings they were forced to do for the Nazis and the drawings that reveal the truth.  One of the artists, Friedl Dicker Brandeis secretly taught the children in Terezin art and hid over 4,000 of their drawings before she was transported to Auschwitz.  There are also photographs of Terezin as it is now and photographs from Nazi propaganda that showed a false front to cover up the horrors when representatives of the Red Cross visited in 1944.
I first read about Terezin in Inge Auerbacher's I Am a Star.  These two books would be good to read together. Terezin Voices from the Holocaust gives the historical context while I Am a Star lets you inside the memories of a child who survived it.  Together, they give students today a glimpse into the horror caused by prejudice and intolerance.