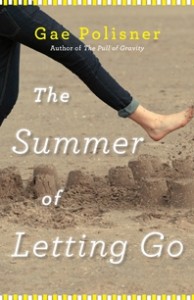 Gae Polisner's The Summer of Letting Go (Algonquin 2014) will haunt me in all the best ways long after I turn the last page.  If you are looking for THE book to take to the beach or to the pool with you this summer, this is it.  Even if you are nowhere near a beach or pool, this hopeful, heartbreaking story will transport you there.
Francesca (known as Frankie) Schnell has been stuck in her life ever since she let her little brother SImon drown four years ago.  Now that she is about to turn sixteen, things are changing whether she wants them to or not.  Her best friend Lisette is dating Bradley, the boy Francesca likes.  Then another Frankie–Frankie Sky–shows up and cracks open questions that Francesca may never be able to answer.
One of the things I love about this book is the questions that it raises.  What is Frankie Sky's connection to Simon?  What happens after we die?  There are more than enough coincidences to make Francesca–and readers–wonder, but the questions linger instead of being neatly answered.  It is in the asking and living of the questions that Francesca begins to live again and to let go of the guilt that plagues her.
How can you not love characters that live in these pages?  I love Francesca's awkwardness and confusion and courage.  She's not perfect, but she is willing to step up and do the hard things.  Frankie Sky is a whirlwind of energy and mystery–a four-year-old that is wise and stubborn beyond his years even when he tries to fly.  It is definitely Francesca's story, but I love the supporting characters just as much, from the mysterious neighbor Mrs. Merrill to the struggling Mrs. Schyler.  Even the parents come across as real people–a welcome presence in a YA novel.  Oh yes, there just might be even a little romance.
Now I hope I can talk my daughter into reading it, but I may have ruined my chances by raving too much about it.