A couple of weeks ago, Christie Wyman–today's  Poetry Friday host–invited any and all to join in her fascination with birds and share a bird-related poem of some sort. I've been wanting to write about my chickens for awhile so that fits right in. Then last week Diana Mayr issued a  challenge to write a poem inspired by an image of an animal from the LIbrary of Congress collection. I've also been wanting to explore the images in their collection. So I took up both challenges (and DIane's suggestion to combine them.
First, I headed over to the Library of Congress Digital Collections to search for images of chickens. Let's just say there were more than a few to choose from, but how could I resist these adorable chicks? The print has a US Copyright of 1777 and is associated with L. Prang and Co. (unverified according to the description). You can find the image here.
Since I'm meeting two challenges, I wrote two poems. First, a haiku: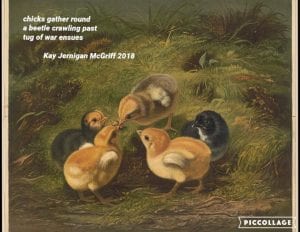 chicks gather round
a beetle crawling past
tug of war ensues
Next, a cherita:
chicks wander out
scratch and peck
in a grassy field
an unsuspecting beetle
trapped between beaks
becomes a tasty treat
Thank you, Christie and Diane, for inspiring me to take on this challenge!
Each Friday, I am excited to take part in Poetry Friday, where writers share their love of all things poetry. Christie Wyman hosts the Poetry Friday Roundup today at Wondering and Wandering. She gathers a flock of poetry with a challenge to write about bird this week. Don't worry if you're off-topic–all poems and subjects are welcome!.