Welcome to the Poetry Friday Roundup! I have been looking forward to hosting for the first time. I've collecting poetry morsels to share like this discussion of Poetry in Politics from the New York Times or Vision and Verse–a compilation of photography and poetry, also from the the New York Times. But once again the events of our country have intruded on most of my waking thoughts and even my dreams.
I turned to poetry this past week to help me process the events of last weekend in Charlottesville, where it seemed that hatred and bigotry are poised to make a comeback. While I knew that white supremacist groups and their ideology of fear and terror and oppression have never completely gone away, I didn't think I would see the day when they marched openly and brazenly through the streets.
I looked for my collection of poems This Place I Know: Poems of Comfort (collected by Georgia Heart for children in lower Manhattan after 9-11), but it seems I've given my copy away–hopefully to someone who needed the comfort offered in its poetry.
I knew I wanted to write as well as read poetry, but I couldn't begin to find the words. So I started with someone else's words. I was looking for a structure to help me give voice to my outrage and offer healing from the violence and hatred.
First I turned to a news story in our local paper. Instead of writing a found poem as I've done before, I tried writing a blackout poem. (Thank you, Christie, for sharing your experiences with blackout poetry last week. Click on her post to find out more.) Here is my first poem: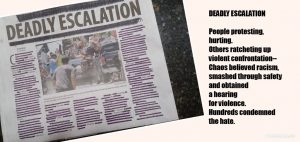 Still looking for poems of comfort, I turned to What Have You Lost? Naomi Shihab Nye collected these poems, all on the theme of loss. Since our country lost much over the weekend, I thought some of these would resonate. I was still struggling to give words to my thoughts and hoped I would find a mentor text to use as a model. I did find such a poem with "On the Suicide of a Young Boy I Did Not Know" by Jennifer Weinblatt. The poem begins
What do I do with this grief
that is not mine, this story
that is not a story but a real
life abruptly gone? What do I do…
You can read the rest of the poem here.
I connected with the sense of questioning, of not knowing what to do. Here s what I wrote in response.
On the Rise of Hatred I Do Not Understand
What do I do with this hatred
that is not mine, this story
that is not a dystopian nightmare
but the real history we are living now?
What do I do with the acrid smoke
streaming from blazing tiki torches
held against a dark sky, swatiskas
unfurling on Nazi flags,
chants echoing hate passed down
year to year like worn-out clothes
passed down child to child?
Hate filled-slogans explode
as bodies flinch under pummeling fists
and a car plows into people.
What can I do to stem the flood
of hatred rising, swirling
through our communities?
Meeting hatred and violence with even righteous
anger fuels the conflagration hotter, higher.
Turning away in silence
implies consent I refuse to give.
My faith tells me to speak out
in love, but how do you love
someone who chooses hate?
It is a small step, one of several I have taken this week, along with attending a rally on Sunday, speaking out in conversations with friends and family. I will keep taking steps until such hatred and bigotry is no more. If you are looking for ways to speak out and take steps against white supremacy, I found the steps in this toolkit to be helpful: A Five-Step Toolkit for Dealing with White Supremacists in the Age of Trump.
Leave your link below: