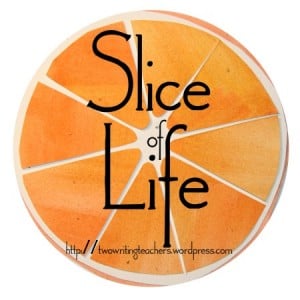 I'm taking part in the weekly Slice of Life Challenge sponsored by  Two Writing Teachers, where teachers write and share each Tuesday. Join in yourself or head over to check out what's happening with other slicers. If you're taking part in the SOL, leave a link to your post. I'd love to read it.
I like living in a clean house.  I just don't enjoy cleaning enough to make it happen on a regular basis.  But today several things conspired against me (or is it with me) to push me over the edge and finish cleaning.
A cold, quiet rain has fallen all day.  I can see the rain swelling the buds on the trees, but it does nothing to entice me outdoors.  I am also staring down the end of spring break tomorrow.  I know I will enjoy the last eight weeks of school much more if I can live in a house that at least starts out clean.
With the help of my husband and daughter, I began–digging out from under the piles of hats, gloves, coats, and boots that accumulated on the nearest surfaces through this winter's weather; sorting through stacks of bills, letters, magazines, and newspapers delivered courtesy of the USPS;  putting away the detritus of completed and abandoned projects for furniture repair, picture framing, and sewing.  Now that I could find the furniture, I wiped away the layers of dust to discover that there was still wood under there.
Then all that was left was the floors.  A quick sweep of the broom gathered the dust and grime from behind doors and in the corners where Roomba can't reach.  Neither Roomba nor the broom are any good at scrubbing the sticky spots off the floor, so it was time to get out my secret weapon:
Yep, I fell for the marketing gimmicks for the fuzzy-soled shoes, and I actually like them.  I put them on and spray the cleaner on a section of floor.  Then I'm off skating across the hardwoods (in my mind it's an ice rink).  When I hit a stubborn sticky spot, I just stick my toe down and spin.  Voila!  The spot's gone, and by the time I'm done, I've gotten in a workout.
Now I can enjoy my clean house for the rest of the evening.  I have dreams that I will be able to deal with the mess as it comes in the next few weeks, but I suspect the stuff that comes with living will overwhelm us once again.