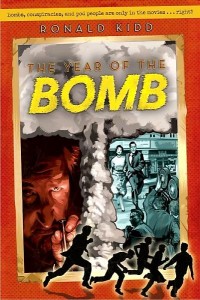 The Year of the Bomb (Simon and Schuster 2009) by Ronald Kidd combines horror movies, conspiracy theories, and quantum physics in this historical fiction novel set in Sierra Madra, California, during the spring of  1955. 
Friends Paul, Oz, Arnie and Crank enjoy nothing more than scaring themselves silly at the Saturday movie matinee.  They've seen them all–The Thing, The Day the Earth Stood Still, It Came from Outer Space, Invaders from Mars.  They can't believe their luck when they learn that the movies are coming to town.  An entire film crew will invade their town to film Invasion of the Body Snatchers.  While hanging around the movie set, the boys strike up a friendship with two extras, Laura and Darryl.  But Laura and Darryl may not be who they claim, and soon the boys are involved in unraveling a Communist spy plot.
Now the fear is not just in the movies.  It pervades real life through bomb drills at school and dark accusations of Communism.  Are Paul, Oz, Arnie and Crank in over their heads?  Who can they trust when anyone could be a spy?
I'm not a horror movie fan, but I enjoyed the behind-the-scenes look at movie making and history provided in this story.  I also enjoyed the boys at the center of the story.  Paul holds the group–and the story–together.  The movies and his friends are his escape from the predictable, black-and-white-world at home.  Oz provides movie-making knowledge from his sound director father.  His family also shows the devastating consequences people faced when accused–fairly or not–of being Communist.  Arnie would much rather face his fears on the screen rather than in real life.  Crank is sometimes blinded by his need for the world to be neatly divided into good guys and bad guys. 
The Year of the Bomb opens a window on a different time period that shares at least one characteristic with our own:  the fear that pervades society, whether from terrorists or communists.  The stories of both reflect that fear.  So, what are your favorite scary stories?