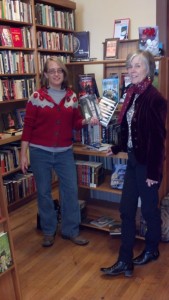 Unlike most of the rest of the country, I stayed home Friday and avoided all the crowds elbowing each other to get the best deal at the super stores.  I did venture out Saturday to Village Lights Bookstore to meet Indiana author Julia Karr.   Author visits anywhere nearby are infrequent, so I was excited to meet a real live author of a book I had read and enjoyed.  XVI gives a chilling look at the future that focuses on problems we face today.  Now I have the companion, Truth, to look forward to as well.
This was my second attempt to meet her at a book signing.  I had planned to drive to Bloomington with our awesome librarian a couple of years ago, but the weather did not cooperate.  With the prediction of an ice storm, we decided to mature and grown-up and stay home instead of slipping and sliding across the hills between here and there.  Fortunately, the weather Saturday was glorious!
The bookstore was glorious, too.  I arrived early at the bookstore, so I had the chance to talk with Julia.  She is super nice and even offered a school visit (since we are so close) or Skype visit.  One of the things I love the most about YA and children's literature (besides the fabulous books to read) is how warm and gracious and welcoming the authors are, especially to teachers and students.
Now I'm debating whether or not to take my new signed copies into my classroom.  I could use the excuse that her books are a little edgy for middle school.  Certainly not every student is ready for the, but some of them are already reading–and living–stories that are far worse.  No, my real hesitation is how quickly I lost my first copy of XVI.  I don't think I saw the book after the first student read it.  It never came back home to my bookshelves, either.  My students might just have to check these books out of the school library, where our awesome librarian can keep a little closer track.  Meanwhile, I have another good book waiting at the top of my TBR pile.
I'm taking part in the weekly Slice of Life Challenge sponsored by  Two Writing Teachers, where teachers write and share each Tuesday. Join in yourself or head over to check out what's happening with other slicers. If you're taking part in the SOL, leave a link to your post. I'd love to read it.