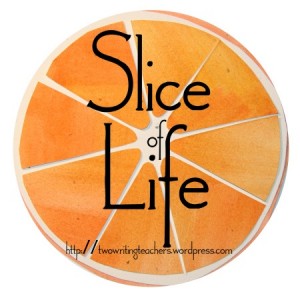 I'm taking part in the weekly Slice of Life Challenge sponsored by  Two Writing Teachers, where teachers write and share each Tuesday. Join in yourself or head over to check out what's happening with other slicers. If you're taking part in the SOL, leave a link to your post. I'd love to read it.
I shooed the last students from my room
and raced to the library
in a desperate search
for a missing book.
Destiny said the single copy should be on the shelf,
but no matter how many times I raked
my eyes back and forth across the books
standing tall and straight on every shelf,
this title did not appear.
Next I hunted through the display case
when a glimpse of yellow and black
gave a glimmer of hope,
but the historical fiction tome
would not replace the dark and twisted–
and downright funny–fantasy I needed.
Just as I was about to give up hope,
I spied a different missing book
that had proved as elusive as the killer
lurking within its pages.
I snagged it from the shelf
and delivered it to an unexpecting student
who had never given up the longing
to read how the sequel spun its tale
while breaking bad news to another
that another sequel went missing.