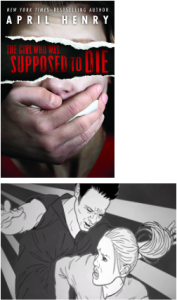 Once I picked up April Henry's The Girl Who Was Supposed to Die, I had a hard time putting it down.  The fast-paced action starts with the first scene and doesn't let up until the last page.   There are enough twists and turns in the plot to give you whiplash and keep you guessing.
The girl from the title wakes up lying and the floor of a cabin.  She doesn't know who she is or where she is or much of anything else.  She hears two men talking about her and realizes that they want to kill her.  She has know idea why, but she knows she must get out of there.  As she desperately tries to escape, she uses the clues around her to figure out who she is.  She remembers how to drive a car, so she must be at least 16.  She knows how to attack someone and leave them injured.  What kind of person knows how to do that?  She finds a family photo with her picture in it.  Who are these people with her?
She does not know who she can trust–not the security guard who threatens to return her to a mental hospital.  Is she crazy?  She can't even trust her own memories, which are mostly missing.  The news reports share information that can't be true, or can it?  She finally gives in to accept help from Ty, the teenager closing up the McDonald's where she eats and then falls asleep at her table.  I'm not sure how believable it is for Ty to get involved with a stranger who is in such desperate circumstances, but I'm willing to go along with the reasons given that he doesn't quite believe it at first (would you?)  and that he wants to pass along the help he received during rough times.
I can't wait to share this one with my students.  Several have already read Henry's earlier book, Girl, Stolen, and are clamoring for this one.