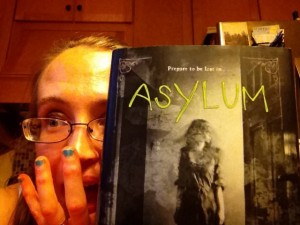 Daniel Crawford has always been a bit of a loner, not fitting in at his high school, but now that he is at a summer program for gifted students on a college campus, he hopes to make friends at last.  Things are looking up when he meets Abbi and Jordan.
Since the regular dorms are undergoing renovations, the summer students are staying in Brookline, a former psychiatric hospital with a dark and secret past.  Dan and his new friends explore the twisting tunnels and dusty rooms underneath Brookline, and in so doing, stir up ghosts that do not want to rest in peace.
Asylum (Harper 2013) by Madeleine Roux is the kind of book that gives me nightmares, but I know I will have students who will enjoy it.  If you like the kinds of movies where you want to scream at the main characters for entering into the deserted house or dark woods where the killer is lurking, you will enjoy the fear these pages dredge up.  It's not too gory, but the mind games and bizarre occurrences are chilling.