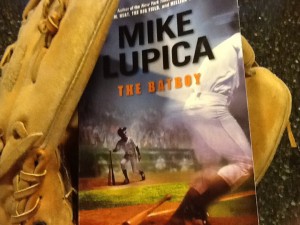 My middle school sports fans love Mike Lupica, and I enjoy his books, too, even though I'm not a big sports fan myself.  Now that baseball season has rolled around once again, it is the perfect time to introduce The Batboy (Scholastic 2010) to my classroom library.
Brian Dudley loves baseball, especially his home team of the Detroit Tigers.  Even though his dad was a big league pitcher, Brian knows he is lucky to have a spot on his travel team.  Along with his best friend, Kenny, he plans to make the most of this summer of baseball.  But travel ball is not the only ball in Brian's summer.  He has his dream job–batboy for the Detroit Tigers.  He gets to see every home game from his post right beside the dugout and wear the Big League uniform.  Brian doesn't care that being batboy involves lots of work both before and after the games as long as he gets his fill of baseball.
Just like Lupica's other books, there is plenty of baseball action, but there is much more than sports.  Brian's dad may have been a great pitcher, but he loved baseball more than he loved his family.  Brian is elated when his baseball hero, Hank Bishop, comes back to play for the Tigers.  Unfortunately, Bishop doesn't act like much of a hero in the locker room.  Brian's efforts to deal with the disappointment caused by his heroes provides the heart of this story.