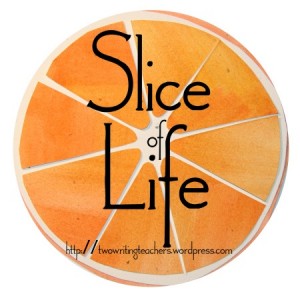 I'm taking part in the weekly Slice of Life Challenge sponsored by  Two Writing Teachers, where teachers write and share each Tuesday. Join in yourself or head over to check out what's happening with other slicers. If you're taking part in the SOL, leave a link to your post. I'd love to read it.
Saturday we took my daughter to compete in her first state level solo and ensemble contest for strings.  She has practiced her cello for long hours in preparation and now it was time to play before the judge.  It was quite an experience.  (My husband said he didn't know there were that many string players in the state.)  Here is a poem I wrote to try to capture the moment.
The hum of voices and snippets of melody swirl throughout a gym filled with a maze of cases and stands and string basses and cellos lying on their sides, staking out claims for their musicians to practice and to wait for their moment to play before a judge. One girl curls around her bass, caressing the neck in a one-armed hug while drawing the bow back and forth across the strings. Ensembles of violins and violas cluster close as toes tap in time to dancing bows. Even as the bleachers fill, I can pick out the strains of melody from Handel's Sonata in C that float above the notes surging from a multitude of strings– different melodies and harmonies colliding in midair– but my ear tunes ever to my my cello belle.   Soon enough the door swings shut on silence and my cello belle sits alone before the judge, poised to play. As the piano fills the accompaniment, her bow weaves across the strings and fingers skip nimbly up and down the neck. Rich notes escape and swell with music made with nothing but wood and strings and air.
 I made a podcast of the poem as well: