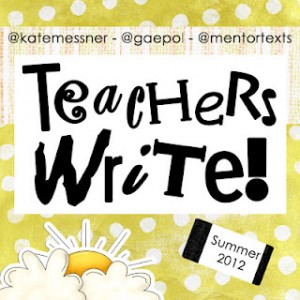 I haven't been jumping in with updates the past week, but I have been writing.  I am making good use of Kate's post last Monday about outlining.  I know part of the reason I've stalled on my Little Red Riding Hood novel is that once I ran out of fairy tale, I still have lots of story left, and I have no idea where to go next.  I started outlining the ten chapters I've written so far. (I made it through six so far.)  My goal for this week (on Friday when I have time and space to spread out all over the living room again) is to finish outlining what I have and start brainstorming where the story goes next.
I also wrote poems for my daughter's birthday.  I started the tradition of writing a poem for her birthday once she learned to read.  I've written one for her every year since.  (Confession–I skipped last year, so I wrote her two this year!)  I'll see if she'll let me post them later.  I used Jo Knowles' writing warm-up to write one of them!
Meanwhile, this week I'm reconnecting with the National Writing Project through the Advanced Institute at Indiana University Southeast.  We're celebrating successes, sharing ideas, and writing, writing, writing.  This afternoon and tomorrow we'll work with Ralph Fletcher as we discuss and try out ideas from his book Pyrotechnics on the Page.  Yes, I am excited.  I can't wait to try some out in my own writing and with my students next year!
During writing time yesterday, I tried Kate's Tuesday Quick Write.  I chose the prompt from guest author Joy Preble about getting to know your characters.  What I came up with is not something that will go directly into my novel, but it definitely helped me to get to know my main character better and to hear her voice more clearly.  Here is what she had to say in response to the questions.  What do you think of her?
How do you see yourself?

 I yearn for adventure, but I have been held captive for so long by my mother's fear. I choke on unasked—and of course unanswered—questions. Why do we move so often, each time to a village smaller and more wretched than the last? Who is my father? Who is the rest of our family? Why won't Mother let me play with the other children? I've grown up lonely at times, but now I can spend hours alone. It's a good thing because I do spend hours alone. When I was younger, Mother used to take me with her on her trips through the woods to collect herbs, but ever since we've lived in Kell, she has left me behind. I know every crack and stone in this cottage. I've named every rock along the path between our back door and the spring up the hill. I have organized and reorganized the bottles and jars and drying racks and braided bundles of dried plants. If bored enough, I'll even sweep the dirt and dust out the door.

I'm getting restless. I loved walking the twisting trails through the forest with Mother. I'd pick flowers to braid into crowns for our head. The children in previous villages stared at me in awe. They may have had free run of the village streets, but most had never been outside the split-rail fences that surrounded each village. I had been past the fences and deep into the forest and survived. I never had the chance to tell them that we never saw anything more dangerous than poison oak. No bears ever peered out of the leafy branches to growl at us. No WolfRiders ever thundered behind us on black stallions. It was just me, Mother, and baskets spilling with fresh herbs snipped from our secret places. I'm getting restless without those trips. I look for anything to break this monotony. I want to fly away. I want to explore more than this cottage. I want to know who I am and where I came from. There must be more to life than fleeing from one poor village to another.

 How do others see you?

 Mother refuses to see that I am growing up. Or maybe she sees, but wants to stop it anyway. Why else would she keep me at home while she traipses through the woods? Mother expects me to be responsible—to dry and store the herbs and to bring them to her when she's treating an illness or injury in the village. Sometimes she questions me: What would you do to treat a fever? What herb do you mix with oil to clean a wound? I know nearly as much as she does now, but the villagers always wait for her return. What's the point of leaving me behind to care for the villagers when they just wait for her to get back?

I only see the other children from a distance when I accompany Mother down the main path of the village. I'm not sure what they think of her silent shadow. Since they've never seen me leave the village for the forest trails, they don't look at me with awe like the children in past villages did.  
 I definitely want to go back and try the poetry prompt from Sarah Lewis Holmes later.  Maybe I can get to it today since I didn't lug the huge binder with my novel down to New Albany with me.