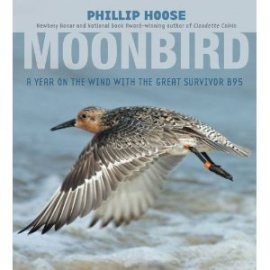 I picked up Moonbird (Farrar, Straus, Giroux 2012) by Phillip Hoose for two reasons.  First, I loved his earlier book, Claudette Colvin: Twice Toward Justice.  Second, my Nerdy Book club friends  were raving about it.  Then it sat around, sinking lower and lower in my TBR pile.  Did I really want to read about a bird?
It turns out I did want to read about the amazing bird B95 once I cracked open the book and began the first page.  This tiny rufa red knot is called the Moonbird because over the course of 20 years or so he has flown enough miles to reach the moon and halfway back again.  B95 was first caught and banded in Argentina in 1995, when he was fully an adult at least three years old.  Over the years, he has been recaught or spotted in Delaware Bay on the US eastern seashore, Mingan Archipelago in Quebec, Canada, and back in Tierra Del Fuego off the southern tip of Argentina.   This bird flies a round trip of approximately 18,000 miles every year while thousands of his species have died off.
Hoose follows the path that B95 most likely takes every year along one of the greatest migrations of the animal world.  This gripping narrative provides the context for a vast amount of information about rufa red knots who fly the world, the ecosystems that support them, and scientists who study them.  My brain is now packed with information about these amazing birds.  I have learned about everything from how to fire a cannon net to capture birds for banding to how rufa red knots change their body to meet the changing conditions met along their migration.  I especially enjoyed reading the profiles and scientists and students who are working to learn about and save these birds before it is too late.
Strictly speaking, this book would be informational text rather than argumentative writing, but after turning the last page, I am ready to learn and do more.  Indiana is a long way from the migratory routes of shorebirds, but I do live between a state and a national wildlife refuge that is along the migratory route of other bird species such as sandhill cranes.  I've even helped band Canada geese in the past.  Hoose reminds me that if we don't work together to preserve the places that sustain migrating birds and other threatened wildlife, we may loose out on some of the best that our world has to offer.  Even better, Hoose offers an appendix of resources for getting involved.  I'm sold.
PS – B95 was spotted in Delaware Bay on May 16, 2013!  He's still flying!