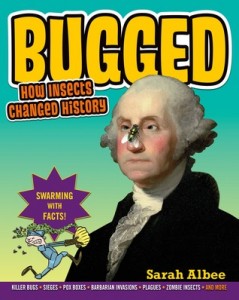 I've been around long enough to learn that my history classes in school left out a lot of history. Kings and generals, battles and revolutions certainly shape history, but did you know that tiny bugs played their role as well? Nope?  Neither did I. Or at least I didn't until I read Sarah Albee's Bugged: How Insects Changed History (Scholastic 2014).
It is indeed "swarming with facts," as the cover proclaims.  Not just any facts–it is packed with facts that are shocking and disgusting and gross.  There is mayhem and death and destruction on every page that is guaranteed to make you itch–if you can manage to scratch between peals of laughter. Did you know that bugs were once used as a form of execution? (Read all about it on page 100). You may even discover that your favorite red sports drink or cherry ice cream or pink blush contain dyes made from squashed bugs. (Read about it on page 20.)
Bugs have done dastardly things–devour food crops and spread deadly diseases–that have changed the course of battles and wiped out large numbers of people.  Albee digs to find the traces of bugs behind some of the most dramatic events of history, from ancient times to modern history, and from the Far East to the New World. I just wish my history textbooks in class could have been as much fun to read as this one was.