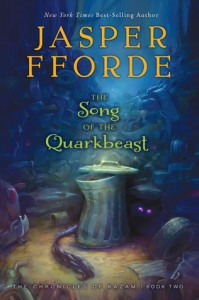 A gift came in the mail this week, a gift of the best kind, a brown envelop containing a book I have been waiting for most of this year.  You see, last Christmas I had gift cards to spend on books.  Since I had been given Jasper Fforde's The Last Dragonslayer in paperback, I chose to preorder the second book in the Chronicles of Kazam in paperback, too.  The Song of the Quarkbeast (Houghton Mifflin Harcourt 2013, Hodder and Stroughton 2011) finally released in the US in paperback this month.
That's a long time to wait to see what the rise of magic might mean to Jennifer Strange and the motley collection of magicians at Kazam Mystical Arts Management.  It was worth the wait.  Even though magic is surging through the Ununited Kingdoms, all is not well.  King Snodd and his Useless Brother are up to their usual tricks.  This time they are joined by an evil magician who goes by the name of Conrad Blix, and the fate of magic–and the world–hangs in the balance. Who is the only one who can stop them?  Jennifer Strange, of course.
The highly capable foundling might have her hands full.  Kazam Mystical Arts Management forced into accepting a challenge from Blix.  Kazam should have no trouble taking on Blix and his few magicians, but the contest just might be rigged.  Two of Kazam's most powerful wizards get turned into stone.  They others are being rounded up by the police.
Just like the first book in the series, The Song of the Quarkbeast is packed with quirky humor and unforgettable characters.  Blix is a villain that you will love to hate.  I loved the introduction of the Mysterious Boo. What's not to love about someone who rescues quarkbeasts and has a deep, dark secret?  We even learn more about the transient moose and finally meet–however briefly–the Great Zambini.
If you're totally confused right now, don't worry.  Jasper Fforde excels at the kind of humor that introduces random things that somehow make sense in the end.  Just hang on tight and enjoy the ride.  The only down side is now I have to wait for the release of The Eye of Zoltar.  The sneak peek in the back is just enough to leave me wanting more.