It's Monday! What are you reading? Is a meme sponsored by Sheila at Book Journey.  Kellee at Unleashing Readers and Jen at Teach Menor Texts gave the meme a kidlit twist.  It's a great way to reflect on what you've read and reviewed the last week and plan what you want to read next.  Join up with us and discover what good books other people are reading.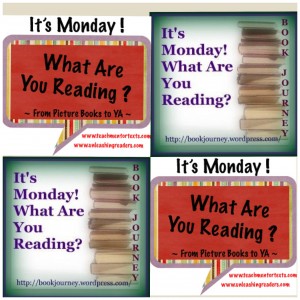 I got some writing done, I canned more tomatoes and pasta sauce.  I battled yellow jackets and baby snakes.  I even read some.  Here are the books that joined me through this week.
I finished…
The Cup of Our Life by Joyce Rupp – I've been using this book for my morning devotions the past six weeks.  I've used it before, but since I'm at a different place in my life, the reflections are still fresh and relevant.  Once again, I am moved by the symbolism of a cup for many things in my life.
Staff of Serapis by Rick Riordan – I found this one while poking around on Amazon looking for something else.  I still have to wait until October for The Blood of Olympus, but this long short story–or is it a short novella–might hold me over until then.  This time Annabeth Chase and Sadie Kane come together to defeat a monster that combines Greek and Egyptian elements.  The question remains, is Riordan just teasing us with these shorts, or is he planning another series joining the Greek demigods and the Egyptian magicians?
I'm currently reading…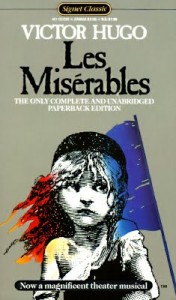 Les Miserables by VIctor Hugo – I know this is one reason my reading (in terms of number of books) has slowed down.  I have spent quite a bit of time this week with Gavroche (a Paris street urchin) as he rescued his unknown younger brothers and escaping from prison with Thenadier.  He may be a rascal and the "master of the house,"  but he does have street smarts.  I am now 67% of the way through.  I'm still working to finish it by the end of the year.
Code Name Verity by Elizabeth Wein – I am almost done–just 25 minutes or so left.  I loved Morven Christie's narration of Queenie/Julie.  She wrung every drop of emotion out of the character without being overwrought.  Then when Lucy Gaskell started narrating Maddy's/Kitty Hawk's part, I was blown away.  Her voice brought Maddy to life in my mind.  I will be sad to finish with this story again.
2014 Children's Writer's & Illustrator's Market edited by Chuck Sambuchino – I have learned so much from reading the articles and interviews–making the most of conferences, creating compelling characters, taking the plunge into self-publishing, and more.  I am almost through the informational part for writing craft and business and to the list of publishers, agents, editors, magazines.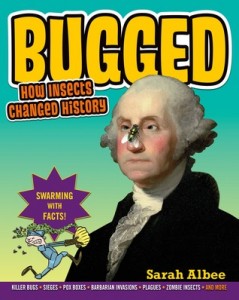 Bugged!  How Insects Changed History by Sarah Albee – I am having too much fun reading this one.  I have to bite my tongue to keep from sharing gross facts about bugs and the diseases they spread at inopportune times.  Even though much of the information is groww, I find myself laughing, too.
Postponed…
How to Write Successful Fundraising Appeals by Mal Warwick – This one is due back at the library today, and I think I'm going to hand it back in unread.  My heart is with writing stories–both fiction and nonfiction–not in copywriting.  If that opportunity presents itself, I know where I can get the book if I want to learn it later.
Coming up…
I am nearly finished with several books.  I'm not sure what I what I will grab off the shelf next.  I will choose another audio book from the ones I downloaded from Sync YA earlier this summer.  I'm looking for something lighter after the intensity of Code Name Verity.  I've also been picking up Khaled Hosseini's And the Mountains Echoed, so it may be next up, too.