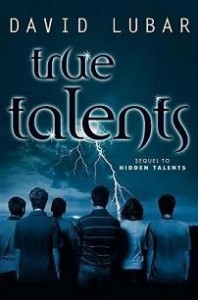 In the author's note in the back (yes, I'm that geeky reader that reads those, too), David Lubar shared that he did not want to write a sequel to Hidden Talents.  I am glad he gave in to reader requests and wrote True Talents (A Tom Doherty Associates Book 2007).
Trash, otherwise known as Eddie Thalmeyer, wakes up in a concrete cell and knows he is in trouble.  He is seeing gorillas on the wall and has vague memories of pain.  A guy named Bowdler insists that he use his mind to move a marble across a table.  If he can use his powers and his strength and his wits, he just might be able to escape.  But who has him and why do they want him?  Who can he turn to once he escapes?
Even though this story focuses on Trash, all the other guys from Edgeview Alternative School find themselves drawn to Philadelphia.  As they come together to first help Trash and then rescue Lucky.  This time the bad guys are much worse than a few school bullies.  Along the way the pull on their powers, and more importantly, they count on each other to discover their true talents.
I enjoyed the shifting points of view that allow glimpses of each of the boys and their different paths to Philly.  Martin still runs his mouth, but he is learning to control it around everyone except his dad.  My favorite, though, is Torchie.  Torchie has taken up a new hobby–playing the accordion.  He is in constant wonder at the generosity of the neighbors, who gladly take up a collection to send him to accordion camp (in Philly, of course) and then to purchase a piano.  Too bad they won't get to enjoy any more of Torchie's traveling concerts.  Flinch has put his impeccable timing to use in a stand up comedy routine.  Cheater meets his match when he tries to outplay a group of poker playing friends who don't like losing money.  Poor Lucky is finally driven over the edge by the voices of lost objects.