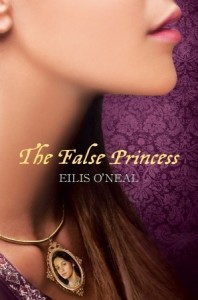 Sinda is not a princess in need of rescuing. In fact, she is not a princess at all–a fact she learns just after her sixteenth birthday. Instead, Sinda is one smart and brave girl, even if she is a bit clumsy. She'd rather spend her days reading books in the library, but she faces up to her new circumstances and determines to make a new life for herself (once she can figure out who she now is). Along the way, she just might rescue the true princess and save the kingdom from betrayal.
Eilis O'Neal has crafted an unforgettable–if unlikely–heroine with Sinda's story in The False Princess (Egmont USA 2011). Sinda was raised to be a princess and one day a queen. Nothing in her training prepared her for her new status in life as the unwanted niece of a dye woman in a poor village far from the character. Even though she is seemingly hopeless, she doesn't give up. When she discovers that she has magic–powerful magic–within her, she sets out on a journey to learn to master her magic before she destroys someone or something. Rejected by the college of magic (they don't mess with anyone who isn't of the nobility or doesn't come with wealth), she turns to the eccentric Phlantha for work and study.
Sinda is not sure of herself. How could she be when everything she thought she was turns out to have been a lie? Even as she searches for the truth about the princess and the plot to steal the throne, her bigger journey is one of self-discovery. In meeting Orianne and Mika, the other two princesses, she learns more about herself through what they share–and what they don't.
Did I mention that there is also a love story? Sinda is blind to that as well. Kiernan has long been her best friend, but she doesn't know what to make of the growing awkwardness between them. She alternates between pushing him away and asking for his help. When it comes down to the crucial decision, though, Sinda is willing to stand up for what she believes is the right choice even if she loses Kiernan in the process. I liked the fact the the romance didn't overshadow the adventure and quest to set the kingdom to rights again.
If you are looking for a princess story in which the princess saves the kingdom, look no further than this magical fantasy.