It's Monday! What are you reading? Is a meme started by Sheila at Book Journey and now hosted by Kathryn at The Book Date. Kellee and Rikki at Unleashing Readers and Jen at Teach Mentor Texts gave the meme a kidlit twist. It's a great way to reflect on what you've read and reviewed the last week and plan what you want to read next. Join up with us and discover what good books other people are reading.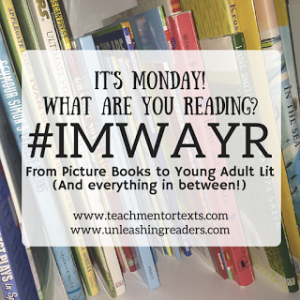 I am getting used to a much quieter house this week. We moved my daughter into her college dorm room on Saturday. She is ready and excited to take on this new adventure, and I am excited for her. If I miss her too much, I can always send her chicken pictures and imagine the eye roll when she opens them.
Blog posts this week…
I finished…
Thunder Boy Jr. by Sherman Alexie and illustrated by Yuyi Morales – When I saw Sherman Alexie's name on the cover of this picture book, I couldn't resist picking it up off the library shelf. This story is a fun romp through possibilities. Thunder Boy hates his name. He is named after his father, who gets to be called Big Thunder. Who wants to be known as Little Thunder? Thunder Boy imagines all the names he could have based on what he's done until finally he and his dad pick the perfect name.
Mercy and Melons: Praying the Alphabet by Lisa Nichols Hickman – The last few letters of the alphabet did not disappoint: Xylophones and Exile, Yellow and Yahweh, Zin and Zinnias. Even better  is the last chapter with an invitation to pray the alphabet myself, an invitation to pay attention to the ordinary stuff that fills my days and bring it in conversation with what is holy. I love the question she asks us to ask ourselves each day: What did you do today that was amazing?
It Ain't So Awful Falafel by Firoozeh Dumas – I've had her first book, Funny in Farsi on my wish list for some time now, so when I saw this at the library, I grabbed it. Now that I've read it, I want to read her memoir even more. It still blows me away that books set in the 1970's are considered historical fiction. Even though I lived through the 70's, I learned much about history, especially that of Iran and what led to the overthrow of the Shah. The background is heavy, but the story and the voice of the narrator (main character Zomorod–now known as Cindy) is hilarious. This book would pair well with Wonder with its emphasis on kindness. Come back for more in my review later this week.
Plan B: Further Thoughts on Faith by Anne Lamott – I love Lamott's writing, and this collection of essays is spot on. I admire her honesty and courage in sharing the struggles she faces, and she is able to make me laugh while doing so. She reminds me that I don't have to have all the answers before taking the "next right step." We all muddle through this thing called life, and it's much better when we can do it together.
I'm currently reading…
Walden by Henry Thoreau – I have found my favorite time to read Walden-during chicken time. Unfortunately, I often get distracted by the antics of the chickens (or of the neighbor's dog who loves to watch chickens with me). I was reminded by Thoreau this week that the most valuable part of any landscape is not the part you can own with a deed, but the beauty you take with you in your mind from enjoying. I did enjoy his story of how he almost bought a property and escaped at the last minute when the farmer's wife changed her mind about selling it.
Simply Tuesday by Emily P. Freeman – Once again, much of my reading seems to be coming together as Freeman reminds me to focus on the small things in life, especially as we choose between being led by fear or love. I can so relate to letting fear create storms even when the day is clear and sunny. As I adjust to having my daughter live away from home, I am constantly reminding myself (especially as I fall asleep at night) that the worst is not about to happen.
Coming up…
Check out the stack of books I snagged from the library this week. I've already read two, but I have many more to look forward to!
What have you been reading this week?
Disclosure: I participate in the Amazon Associates Program. If you decide to make a purchase by clicking on the affiliate links, including in the linked picture above. Amazon will pay me a commission. This commission doesn't cost you any extra. All opinions are my own.