It's Monday! What are you reading? Is a meme sponsored by Sheila at Book Journey.  Kellee at Unleashing Readers and Jen at Teach Menor Texts gave the meme a kidlit twist.  It's a great way to reflect on what you've read and reviewed the last week and plan what you want to read next.  Join up with us and discover what good books other people are reading.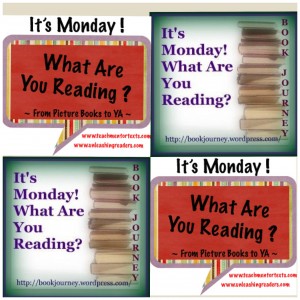 I finished:
Murder at the Vicarage by Agathy Christie – Doing lots of mowing this week gave me lots of time to listen to this audio from SYNC YA.  It was a delight to listen to.  I love Miss Marple and her keen observations–though if I lived in her village, I'd probably think she was a busybody when she turned her skills on my life!
And the Mountains Echoed by Khaled Hosseini – This is my favorite of the three Hosseini books I've read.  The end was bittersweet, and I definitely wanted to read more about some of the characters.
Save Me by Lisa Scottoline – Everything that could go wrong when Rose volunteers at her daughters school does go wrong–bullying girls, an explosion, a missing/injured child, lawsuits and possible criminal charges.  Then Rose turns into an amateur detective and brings the true bad guys to justice.  I liked it.
I'm currently reading…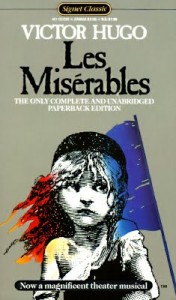 Les Miserables by VIctor Hugo – I'm up to 72%, but the story is bogging down with more political theory and lots of mooning over each other by Marius and Cosette.  In this section, I'm most impressed with Eponine's bravery.  She protects Marius and Cosette from a gang of six robbers (including her father) who have just escaped from prison.
The Complete Idiot's Guide to Publishing Children's Books by Harold D. Underdown – I've just started another text in my crash course on freelance writing.  Now to start getting all these ideas that are swirling around my head down on paper and out into the world.
Coming up…
Confessions of a Murder Suspect by James Patterson – I just transferred this one to my iPod to listen to while I run and do other mindless tasks.  The heat and humidity kept me from running this morning, but I have something to listen to when I do get on the road!
I'll continue reading the books I'm in the middle of.  I also have another book by Lisa Scottoline that I will start.