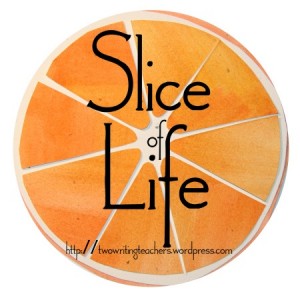 I'm taking part in the weekly Slice of Life Challenge sponsored by  Two Writing Teachers, where teachers write and share each Tuesday. Join in yourself or head over to check out what's happening with other slicers. If you're taking part in the SOL, leave a link to your post. I'd love to read it.
What is the best way to come back to school after spring break?  Why by taking my classes to the book fair all day!
If you could see the piles and boxes of books I have stacked around my house and classroom, you would know that the book fair is the last place I need to to spend my day.  But what could be better than spending time every period browsing the new books, pointing out favorites to my students, and discovering new titles that look intriguing.  To make it even better, this is the BOGO book fair.  How can I turn down a deal that lets me get a free book for each one I buy?
I also had chance to look at next year's Young Hoosier Book list and buy some of the titles for my classroom.   I can tell I am much more aware and current with my reading.  When I first started promoting the Young Hoosier books through our book club at school, most of the books and authors were new to me.  When I looked at this year's list, I realized I already owned eight of the titles in my classroom library already, and several of the other titles have been on my wish list.  I am looking forward to discovering a few new books and authors as well.
The more books and authors I know, the better I am able to recommend the right book to my students.  And my students have been reading up a storm this year.  I currently teach 113 students.  Those 113 students have read a grand total of 2,121 books so far this year.  I think that rocks!