It's Monday! What are you reading? Is a meme started by Sheila at Book Journey. Kellee and Rikki at Unleashing Readers and Jen at Teach Mentor Texts gave the meme a kidlit twist. It's a great way to reflect on what you've read and reviewed the last week and plan what you want to read next. Join up with us and discover what good books other people are reading.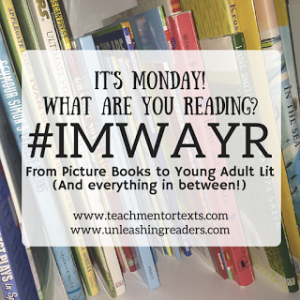 Last night we had my kind of Super Bowl party. Along with the good food, my daughter and her friends spent as much time talking about books as they did about the game. Actually, the conversation was quite wide-ranging, but not very much focused on the game (except for my husband and daughter who actually followed most of the action and the conversation). And, of course, we all enjoyed the halftime show!
This week I am also jumping into a poetry challenge offered by Laura Shovan: 2016 Found Object Poem Project. You can read the introduction to it here and and find the images for this week's poems here. I missed the first week, but did write a poem for Poetry Friday:
I finished…
Nothing! You'll see why (or at least partly) when you see the list of books I'm in the middle of. It's been one of those weeks that I flit from book to book without settling on any for very long.
I'm currently reading…
Learning to Walk in the Dark by Barbara Brown Taylor – The chapters I read this week described Taylor's practical experiences with darkness as well as what she learned from reading works by those who live in darkness. She describes restaurants that invite people to dine in total darkness. She was able to encounter darkness through Dialogue in the Dark, where blind guides lead participants through a simulation of daily life in total darkness. She also experienced the dark in a wild cave and shared the writings of Lusseyran, a blind fighter in the French Resistance. I am intrigued by the idea that our sight might blind us to things that are important and that light and darkness are as much within us as in the world without.
Keeping the Sabbath Wholly by Marva J. Dawn – I'm reading the last section this week–Feasting. I love that Dawn is stretching my understanding of Sabbath to much more than just prohibitions against "work," but it is an invitation to experience rest and joy–and to be a force against the prevailing cultural values of greed and busy-ness and accomplishment.
The Raven Boys by Maggie Stiefvater – We weren't able to read much this week since I was gone for three nights (and we had a Super Bowl party another night), but we are nearing the end. I'm looking forward to reading the last chapters with her. Then we'll see if she will pursue the rest of the series for herself.
Raising Chickens for Dummies by Kimberly Willis and Rob Ludlow – I didn't read as much in the book except to go back and check information on how much space chickens need in their shelter and run and refer back to other specific information. I did, however, get to tour a couple of chicken coops to see how they are set up. My husband and I have decided we may be overthinking things, and are eager to start building. We found some old fence panels we can use for a run, and are busy sketching out plans.
The Iron King by Julie Kagawa – A friend of my daughter's lent this to her, and of course, I had to take a peek since I have heard nothing but rave reviews. Now I get it. I was hooked from the first page and can't resist sneaking in a few more pages every chance I get.  I am captivated by the world of the faeries and Puck and most of all, Meghan Chase herself.
My America: A Poetry Atlas of the United States, selected by Lee Bennett Hopkins and illustrated by Stephen Alcorn – I finished my tour of the Midwest and have moved onto the Plains states. While some poems are clear about which state they describe, others are more general to the region. Even so, each poem offers a glimpse of life tied to a particular place.
Between the World and Me by Ta-Nehisi Coates – I finally received notification  that the audio book was ready from my public library through Overdrive. The audio book is very intimate as Coates is reading the letter he wrote to his son, but I'm afraid I am missing much as I listen. It is giving me much to think about, but I want to find a print copy to read as well so that I can better pause and ponder.
After Alice by Gregory Maguire  – I found this waiting for me at the library. I'm having a hard time getting into this one, but that may be more to my state of mind each time I've sat down to read–or it may also be due in part to the disjointed nature of Wonderland where inexplicable things happen to Ada as she searches for her friend Alice. I am growing to like Ada, but I don't have as much patience when the story switches to Lydia, Alice's older sister stuck above ground.
Coming up…
I think I need to focus on one (or at least narrow down to a few) of the books I'm in the middle of. Which book will I finish first? Which one will a savor the longest?
Disclosure: I participate in the Amazon Associates Program. If you decide to make a purchase by clicking on the affiliate links, including in the linked picture above. Amazon will pay me a commission. This commission doesn't cost you any extra. All opinions are my own.