It's Monday! What are you reading? Is a meme sponsored by Sheila at Book Journey.  Kellee at Unleashing Readers and Jen at Teach Menor Texts gave the meme a kidlit twist.  It's a great way to reflect on what you've read and reviewed the last week and plan what you want to read next.  Join up with us and discover what good books other people  are reading.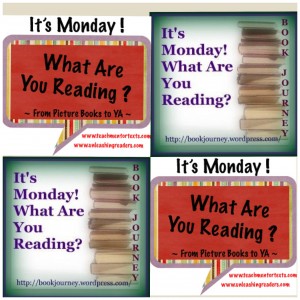 I fell behind on blogging this week. (The books are stacking up faster than I can review them.) But I made up for it with baking! I may have discovered a new favorite Christmas cookie. The Triple Chocolate Candy Cane Cookies were simple to bake, look amazing, and tasted delicious. I also tried making hamburger buns for the first time. With a little help from the bread machine, they were easy, too, and look so cute! We also had Christmas orchestra concerts and Christmas piano recitals and Christmas parties. With all the Christmas fun, I did get some good reading in, too.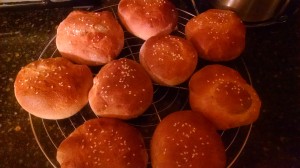 I read…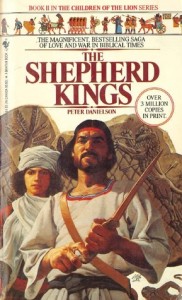 The Shepherd Kings by Peter Danielson – Book II is just as gripping as the first one. These characters are struggling to find themselves and to find their way home. Jacob finally comes into his own strength after bowing to Laban for so many years. Haddad, the crippled artist, discovers a strength and love that he didn't know he had. Shobai, the careless pleasure seeker, discovers that he has missed much in life. Kirta, the knowledge seeker, hopes to make it home to right the wrongs he left behind before it is too late.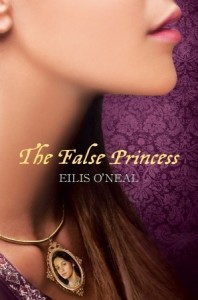 The False Princess by Eilis O'Neal – I love, love Sinda, whether she is the princess or not. She is stubborn, smart, brave, and somewhat clumsy. Her favorite place to hang out is the palace library, but when her fortunes change, she tries her hardest to fit into her new life. Unfortunately, learning to be a princess did little to prepare her to live in near poverty as a dyer of cloth. As she struggles to find her new place in the world, she uncovers a sinister plot and discovers magic within herself. Oh yeah, there's even a little bit of romance.
Rudolph the Red-Nosed Reindeer by Barbara Shook Hazen, illustrated by Ricard Scarry – This Little Golden Book follows the story from the song lyrics rather than the animated Christmas special. My daughter chose it to read for our Advent devotion. I wasn't sure how she was going to connect Rudolph with the theme of joy for this week, but she did: We can each find joy in discovering our own unique gifts, and we should celebrate each person's gifts instead of making fun of them.
Olive, the other Reindeer by Vivian Walsh and J. Otto Seibold – Olive is a little confused whether she is a dog or a reindeer, but she is wiling to do her part to help Santa either way. Even though her presence among the reindeer team causes a few mishaps, she uses the things that dogs are good at (chewing, fetching sticks, smelling) to save the day. I enjoy this whimsical story and vivid illustrations every Christmas. I don't listen to the lyrics to Rudolph quite the same any more either.
I'm reading…
Vengeance of the Lion by Peter Danielson – Yes, I am hooked on this series. Book III picks up just a few years after Book II ends. Jacob is settled in Canaan, but his unruly sons are causing trouble (the murder of the men at Sechem to revenge the rape of their sister Dinah). The Shepherd Kings have been temporarily stalled, but with the Hittites facing internal strive, they are poised to strike the city of Ebla. Once Ebla falls, there is nothing to stop them from sweeping into Canaan. Kirta and Shobai are working to arm the city with iron, but can they do so in time?
Satisfied Customers Tell Three Friends–Angry Customers Tell 3,000 by Pete Blackshaw – I'm almost done (just a few pages left), and need to finish it today so I can return it to the library. I do think much of this book is still valid even though some of the technology tools have changed (Google Reader no longer exists, for example). Customers do have more power now. Will they use it wisely? Will companies listen?
Coming up…
I still have lots of Christmas books beckoning to me! I may not get through all of them, but I will have fun trying!
What are you reading this week?