It's Monday! What are you reading? Is a meme sponsored by Sheila at Book Journey.  Kellee at Unleashing Readers and Jen at Teach Menor Texts gave the meme a kidlit twist.  It's a great way to reflect on what you've read and reviewed the last week and plan what you want to read next.  Join up with us and discover what good books other people  are reading.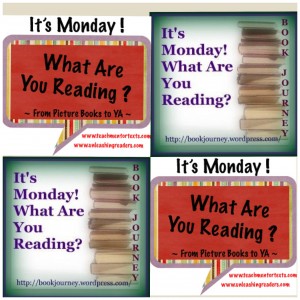 November is National Picture Book Month, so I decided to jump in with the fun and catch up on some picture books this week. I have wanted to read more picture books, but didn't take the time. A trip to the library netted a stack of good books for this week. Look for my post tomorrow where I give my reactions to these gems. For here, I'll keep it simple with a list and pictures!
I finished…
 Extra Yarn by Mac Barnett, illustrated by Jon Klassen
Click, Clack, Moo Cows That Type by Doreen Cronin, pictures by Betsy Lewin
The Wolf Who Cried Boy by Bob Hartman, pictures by Tim Raglin
Little Red Riding Hood a Newfangled Prairie Tale by Lisa Campbell Ernst
The Dancing Tiger by Malachy Doyle, paintings by Steve Johnson and Lou Fancher
Old Bear by Kevin Henkes
Louise, The Adventures of a Chicken by Kate DiCamillo, pictures by Harry Bliss
Strega Nona's Gift by Tomie dePaola
Hello, Red Fox by Eric Carle
The Story of Holly & Ivy by Rumer Godden, pictures by Barbara Cooney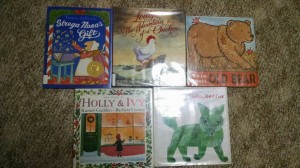 Sharp Objects by Gillian Flynn – I've heard all the hype about Gone Girl, but I haven't read the book or seen the movie. But when I found this earlier novel by Flynn on my shelf, I decided to pick it up and see if I wanted to check out what the fuss is all about. On the surface, Sharp Objects is a murder msytery. Camille, a second-rate journalist from a small Chicago newspaper is sent back to her small Missouri town to report on two girls who turned up missing and dead–what appears to be the work of a serial killer. Along the way she must confront the dysfunctional family dynamics of her childhood. Okay, dysfunctional is an understatement. This book was intense on many levels–and downright disturbing on some. I had a hard time putting it down and just when I thought I had figured out who had done it, I was surprised.
 I'm reading…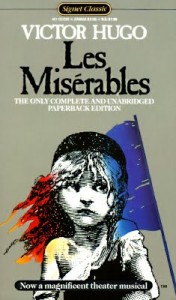 Les Miserables by Victor Hugo – I made it to 90% this week! I really think I'm going to finish it. Jean Valjean's journey through the sewers while carrying the unconcious Marius was much more harrowing in the book than the movie–and ended with a bit of treachery by our "friend" M. Thenadier that put Valjean in the hands of Javert. Another difference from the musical that I liked was that Javert chose to let Valjean go before he had his crisis that led to his death.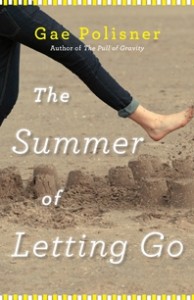 The Summer of Letting Go by Gae Polisner – We're getting to some of my favorite parts in the book. I am so glad I get to share the story of Frankie Sky and Beans and Bradley and Lisette with my daughter.
Branding Only Works on Cattle: the New Way to Get Known (and drive your competitors crazy) by Jonathan Salem Baskin – I'm trying to brush up on my marketing knowledge since the class I took way back in college. I may have been better off to start with something more basic rather than something trying to uphend conventional knowledge, but I do enjoy the voice (who knew writing about marketing could be funny) and the thought-provoking ideas.
Secrets of Writing High-Performance Business-to-Business Copy(AWAI) – I always had dreams of being a creative (fiction) writer, but I am pleasantly surprised by how much I am enjoying learning about and practicing copywriting.
Coming up…
I have a book on managing a freelance business to read and another trip to the library for more picture books planned!
What are you reading this week?