It's Monday! What are you reading? Is a meme started by Sheila at Book Journey. Kellee at Unleashing Readers and Jen at Teach Mentor Texts gave the meme a kidlit twist. It's a great way to reflect on what you've read and reviewed the last week and plan what you want to read next. Join up with us and discover what good books other people are reading.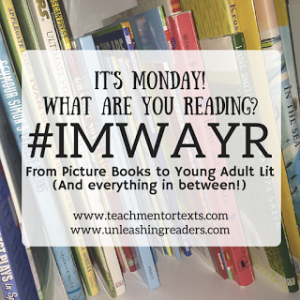 Even though Saturday was cold and rainy here, I spent the morning with one of my favorite projects–Friends of the Muscatatuck River Society Fall River Cleanup. I spend the morning walking part of the rivers in our county with friends. The trees arching overhead sheltered us from the rain while we cleaned trash from the rivers. The coldest part of the day? Eating lunch when we were done. Now the sunshine and warmth are back, so I spent yesterday afternoon sitting on the back porch with the newspaper and a stack of books. Aaahhh.
I finished….
The Gospel According to Starbucks by Leonard Sweet – Not only is Sweet a coffee fanatic (I learned some cool facts about coffee–you should definitely learn about the world's most expensive coffee, Kopi Luwak.), but he also makes a compelling case that the modern church can learn from Starbucks. Faith is something that is to be lived and experienced, not just beliefs to agree or disagree with. Church (meaning the people, not the building) should offer experiences of God and invite people to participate and connect.
I'm currently reading…
Leaving Church by Barbara Brown Taylor – I love the discussions I am having with my study group and church. Even though Brown writes about her very particular experience with faith and the church, she raises many questions that I can relate to. Especially, I can relate to her experience of living in more questions than answers. The more I grow in my own faith, the bigger my questions become and the less I am sure of. I am also finding many connections with the ideas raised in Sweet's book above. Faith is much more about living out experiences of God in our own stories than it is affirming a set of dogma.
Red Queen by Victoria Aveyard – My daughter read this book she borrowed from a friend yesterday afternoon. I picked it up and was hooked from the beginning. I had to promise to treat the book with extra care, but I did get permission to finish. Mare was born and raised a Red in a society ruled by Silvers–humans with extra powers. Mare helps her struggling family by stealing what she can and dreads her next birthday when she will follow her older brothers in being conscripted to fight in the war. Suddenly, she finds herself pulled into the Silver court and discovers powers no one knew she had.
What have you read this week?
Disclosure: I participate in the Amazon Associates Program. If you decide to make a purchase by clicking on the affiliate links, Amazon will pay me a commission. This commission doesn't cost you any extra. All opinions are my own.