It's Monday! What are you reading? Is a meme started by Sheila at Book Journey and now hosted by Kathryn at The Book Date. Kellee and Rikki at Unleashing Readers and Jen at Teach Mentor Texts gave the meme a kidlit twist. It's a great way to reflect on what you've read and reviewed the last week and plan what you want to read next. Join up with us and discover what good books other people are reading.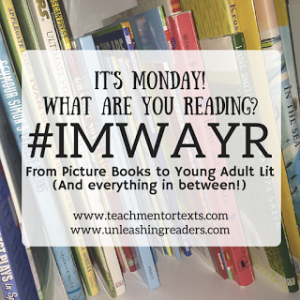 We are finally getting some cooler fall weather to enjoy! For some reason, I thought I would have a lot of extra time once my daughter left for college, but I can't seem to find it. We are staying as busy as ever with work and fun.
Blog posts this week…
I finished…
Have a Little Faith by Mitch Albom – What an inspiring story. It begins with a request from Albom's rabbi: Would Mitch write the rabbi's eulogy? As Albom gets to know his rabbi as more than the Man of God, he also encounters another Man of God–Henry Covington, the pastor of I Am My Brother's Keeper church and homeless ministry in Detroit. The two men could not have had more different life stories, but both share a passionate love for God that spills over into love for neighbor and community. I know I have much to think about with my own faith after reading this one. I can't wait to discuss it with my Bible study group and hear what they think, too.
The Miseducation of Cameron Post by Emily M. Danforth – Wow. I was blown away by this story. Cameron is a character who will stay with me for a long time. Her voice is at times snarky, at times vulnerable, at times hysterically funny, always courageous and honest. While Cameron's story is at times heartbreaking (the death of her family, her time at school that is supposed to "cure" her of being gay), it is most of all hopeful and beautifully written. This is an important book, one that students–whether gay or not–need to have access to read.
Sweet Legacy by Tera Lynn Childs – I thoroughly enjoyed the conclusion to this trilogy of mythology and monsters. The triplets and descendants of Medusa–Gretchen, Grace, and Greer–are about to fulfill the prophecy that is their destiny. But just when they think they have things figured out, things get much more complicated. Not all monsters are bad. They boys who have come to help them are hiding secrets of their own. Not to mention, at least two sides of gods and monsters want to kill them. All they have to do is rescue the Gorgons, fight off the Olympians and open the door. Then they can take up their legacy of guarding the way between the realms and keeping balance.
I'm currently reading…
Good Omens by Terry Pratchett and Neil Gaiman – Who knew the end of the world could be such a rollicking good time? I should have known that is what would happen when these two guys (who wrote the book together before they were literary gods themselves) join forces. I've just started, but I'm already snorting at the footnotes (I love funny footnotes) and becoming a fan of Crowly (originally known as Crawly–the snake who tempted Eve with the apple).
Coming up…
I need to remember to renew the library books I still have checked out in order to avoid those pesky fines. I still have two of the books I checked out last time to finish reading. I'm also looking forward to my mom's visit starting Wednesday, and going to visit my daughter at college next weekend.
What have you been reading this week?
Disclosure: I participate in the Amazon Associates Program. If you decide to make a purchase by clicking on the affiliate links, including in the linked picture above. Amazon will pay me a commission. This commission doesn't cost you any extra. All opinions are my own.