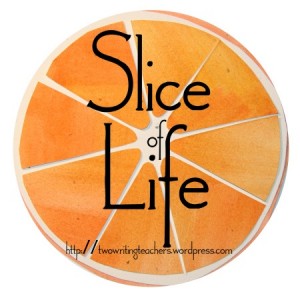 I'm taking part in the weekly Slice of Life Challenge sponsored by  Two Writing Teachers, where teachers write and share each Tuesday. Join in yourself or head over to check out what's happening with other slicers. If you're taking part in the SOL, leave a link to your post. I'd love to read it.
I love many things about taking part in the Slice of Life Challenge–
being inspired by good writing and great teaching,
taking part in such a supportive community,
experimenting with different writing techniques,
having the discipline to write every day for a month,
–but one of the things I love the most is receiving comments on my writing.  Knowing that someone is reading my writing  motivates me to write more and more.  Those words of encouragement are like a trail of bread crumbs that lead me right back to more writing.  Thank you to everyone who has taken time to read and comment on my posts.
I also enjoy reading and responding to the other slicers each day.  I come away amazed and inspired.  Earlier this week Betsy suggested a commenting game.  I haven't played by those rules yet, but her post did get me thinking about how I decide which posts to comment on each day.  I will warn you that for my commenting game, I make up the rules as I go along, and they change from day to day.
My Arbitrary and Ever-Changing Rules for Commenting:
I volunteered to be part of the Welcome Wagon during this month's SOL.  I signed up because last year's Welcome Wagon did such a good job in making me feel like I belonged.  In return, I got to read daily slices from a group of new writers to this community.  I don't know how Bonnie divided the new slicers among us, but I lucked out.  By reading slices from the same group of people every day (people who made me laugh, who inspired me, who shared incredible experiences with me), I feel like I got to know them so much better.  I want us all to meet somewhere over dinner and continue sharing stories.
At some point during the last year, someone (I wish I remembered who) shared that they always commented on the three people who linked below them on the call for slices at TWT.  I thought that was a good idea, so I've been doing that, too.  Somedays it's the three people below my name.  Some days, I am able to read and comment on the five or more slices below mine.  Since I am not consistent on the time of day I slice, I've gotten to read more variety.
Sometimes I just scroll through the links.  I'm not looking for anything in particular.  Is there a name I recognize?  Does the title or intro to the blog post catch my eye?  Is it a topic I share an interest in or a topic that introduces me to something completely outside of my experience?
I try to visit the blogs of the people who leave me comments.  It doesn't always work.  Sometimes I can't find their post in the long list of links.  Some days I just get overwhelmed and run out of time.
No matter how I get to those posts, I hope those writers are as encouraged by my comments as I am by the ones I receive.