It's Monday! What are you reading? Is a meme started by Sheila at Book Journey. Kellee and Rikki at Unleashing Readers and Jen at Teach Mentor Texts gave the meme a kidlit twist. It's a great way to reflect on what you've read and reviewed the last week and plan what you want to read next. Join up with us and discover what good books other people are reading.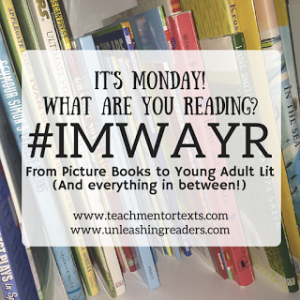 I finished…
Soul Tsunami by Leonard Sweet – For a book that was published 15 years ago, this look at postmodern trends for the future feels very contemporary. Sure, there are a few things that are dated, but the big ideas explored in the ten double rings seem intensified today. We live in a time with seismic shifts in how we view the world. (Does every age feel that way to those who live in it?) Sweet does not despair at the changes, but welcomes them and offers guidance to churches who want to be at the forefront of change rather than protesting change to the bitter end.
A Christmas Carol by Charles Dickens, illustrated by Roberto Innocenti – This is another classic Christmas story that I love to revisit every year, or at least every few years. I have an oversized edition with gorgeous illustrations. As I read, I couldn't help but think the spirit of Ebeneezer Scrooge is alive and well today. I am glad that the Spirits of Christmas are also alive and well and demonstrated by the outpouring of generosity in my community this holiday season. I would love to go back and watch some of my favorite movie adaptations, but maybe next week or next year.
If This Isn't Nice, What Is? by Kurt Vonnegut, selected and edited by Dan Wakefield – My brother gave this to my daughter last year for Christmas. She's rereading it (I think the reality of her high school graduation is sinking in), and I picked it up and devoured it in one car ride. This collection of Vonnegut's primarily college graduation speeches is filled with wit, humor and wisdom. My favorite bit of wisdom comes from Vonnegut's uncle (who shows up in multiple speeches) who exhorts us all to savor moments of happiness as we experience them. I think his question–If this isn't nice, what is–will be my guide this coming year.
What Have You Lost by edited by Naomi Shihab Nye – I savored these poems through many months. I did sit down and read the last handful at once, but reading one a day was perfect. These poems capture so many different losses–some heartbreaking, some enraging, some bittersweet, some hopeful. I now want to write my own poems of loss. They also introduced me to many new poets and some familiar ones. The photographs–black and white portraits–taken by Michael Nye capture as much loss as do the poems.
The Eye of Zoltar by Jasper Fforde – First Jennifer Strange solved the dragon problem in the Ununited Kingdoms. Then she saved magic from the greedy plans of King Snodd. Now her troubles have just begun. The Mighty Shandahar has threatened to kill the last two dragons in the world unless she can bring back the legendary Eye of Zoltar. No problem. All she has to do is to travel to Cambria (an isolated kingdom filled with dangerous creatures), find Able Quizzler, who supposedly tracked the Eye of Zoltar to the lair of the legendary sky pilots in the graveyard of the Leviathans. (None of which are confirmed to exist. In fact, they might be entirely imaginary.) Oh yeah, she has to take the spoiled princess of Snodd (now in her maid's body) along to teach her a lesson.While there, she uncovers more secrets that could mean the end of their lives. Just another day in the life of an orphan indentured servant.Once again Fforde's brilliant humor shines. The best news–the saga of Kazaam and the mystical arts will continue!
I'm currently reading…
God Is in the Manger by Dietrich Bhonhoeffer – Bonhoeffer gives me plenty to think about with these reflections on Advent and Christmas. I'm glad each day's reflection is only two pages because there is so much packed into each sentence. When I stop and think about the fact that God became human in the form of a baby born into a poor family in a poor country, it boggles my mind.
Finding the Game by Gwendolyn Oxenham – Oxenham and three friends travel the world in search of pickup soccer games. They hope–and find–that soccer opens doors and creates connections with people around the world. I have learned to enjoy watching soccer as my daughter played through the years. I knew soccer was popular around the world, but I had no idea of the allure this game has in other countries and for the people who love it. Everywhere they go (so far South America, Europe and the Middle East), they find new friends by jumping into pickup games found in city slums and country villages. I can't wait to see where they go next.
The Jesus Prescription for a Healthy Life by Leonard Sweet – Does the life of Jesus show us how to live a healthy life? Sweet says it does. He combines stories about Jesus from the Gospels with the latest research from medicine and psychology. None of what I've read so far is startling or unexpected, but it's good to be reminded of healthy choices as I start the new year.
Coming up…
I was lucky enough to receive many of my favorite presents for Christmas–books! I can't wait to dive into the pages to see what they offer. I also have a new poetry book to start browsing through as well.
What are you reading for the New Year? What were your favorite books you received last year?
Disclosure: I participate in the Amazon Associates Program. If you decide to make a purchase by clicking on the affiliate links, including in the linked picture above. Amazon will pay me a commission. This commission doesn't cost you any extra. All opinions are my own.