It's Monday! What are you reading? Is a meme started by Sheila at Book Journey and now hosted by Kathryn at The Book Date. Kellee and Rikki at Unleashing Readers and Jen at Teach Mentor Texts gave the meme a kidlit twist. It's a great way to reflect on what you've read and reviewed the last week and plan what you want to read next. Join up with us and discover what good books other people are reading.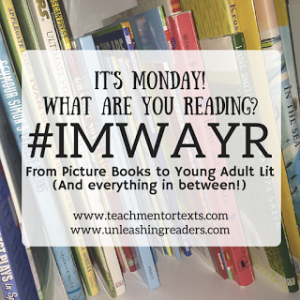 I've been in a bit of a reading rut lately. I just had a hard time finding a title that caught my eye. Once I picked up a book, I usually enjoyed it, but once I finished, I didn't have another book in mind that grabbed me. So, I've been exploring different books, hoping to find some that took hold. Some did, some didn't. I think what I really need is a leisurely trip to the library. I've got a few books lying around the house (probably more than a few) that I still haven't read, but I want to browse lots of new to me titles and covers and discover a whole stack of books waiting. The weather is also warming up as spring is coming, and we are making progress on the chicken coop!
I finished…
The Raven Boys by Maggie Stiefvater – My daughter actually finished the last few chapters on her own, so I did, too. I love the ending–except for the disappearing people and sudden revelations that leave you hanging. This probably wasn't the best choice for our readaloud because she missed to much as she sometimes drifted off to sleep in the middle of a chapter. It didn't help that we skipped reading nights in a row due to busy schedules. I do hope she will explore the rest of the series. I know I'm waiting eagerly for the next book to be released later this spring.
Backfire by Catherine Coulter – I generally like crime thrillers and mysteries, but this one didn't do it for me. The plot was intriguing and fast-moving, but I had a hard time keeping all the detectives/FBI agents/US Marshalls straight. Maybe it would have helped if I had read more books starring these same characters. The bad guys, however, were ingenious with their plots.
On the Run by Lorena McCourtney – I have found a new mystery series that I like. My husband actually picked up two books in this series at a yard sale, and I finally got around to trying them. Ivy Malone reminds me somewhat of Miss Marple. She's a LOL (little old lady) who has a knack for running into dead bodies, and her curiosity gene won't let her alone until she figures out who did it. Ivy travels the country in her RV, trying to avoid the Braxton clan, who want her dead for putting one of them in prison. In Oklahomo, she picks up a young woman who is also on the run, and together they run into a couple of dead bodies while looking for a job. Even though the local police believe it is a clear case of a murder/suicide, Ivy is not so sure. While this would be classified as Christian fiction, it's not overly preachy.
I'm currently reading…
My America: A Poetry Atlas of the United States, selected by Lee Bennett Hopkins and illustrated by Stephen Alcorn – Oops! I haven't read many poems lately. I need to get back in the habit of reading one after dinner again. I'm almost through with my poetry tour of the United States.
John: The Gospel of Light and Life by Adam Hamilton – Our pastor chose this book for a Lenten study. I love the insights that Hamilton shares as we read through the book of John and his commentary. The last two chapters have focused on the miraculous signs of Jesus and the I AM sayings of Jesus.
Stranded by Lorena McCourtney – Ivy and Abilene are on the road again, but the RV breaks down in Hello, Colorado. Since they are going to be there a while, they both find jobs (Abilne as a vet assistant and Ivy as a librarian for the historical society). Of course, the house they are staying it just happens to be the sight of a recent murder. While most of the town is convinced that the niece did it, Ivy is not so sure. She keeps snooping (and fending off romantic overtures from the town eccentric) until she is sure to discover the truth.
Coming up…
It is way past time for a trip to the library! I'll let you know what I find as I browse through the stacks. While I'm there, what are your recommendations?
Disclosure: I participate in the Amazon Associates Program. If you decide to make a purchase by clicking on the affiliate links, including in the linked picture above. Amazon will pay me a commission. This commission doesn't cost you any extra. All opinions are my own.