It's Monday! What are you reading? Is a meme started by Sheila at Book Journey and now hosted by Kathryn at The Book Date. Kellee and Rikki at Unleashing Readers and Jen at Teach Mentor Texts gave the meme a kidlit twist. It's a great way to reflect on what you've read and reviewed the last week and plan what you want to read next. Join up with us and discover what good books other people are reading.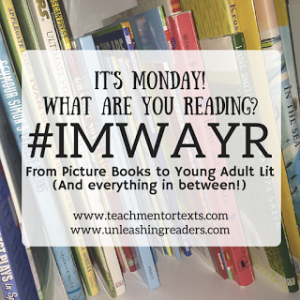 I did a lot of driving this week, especially down back roads through the country. One day I came across this beautiful old covered bridge. The road no longer crosses the creek, but the bridge still stands over it. We haven't made much progress with the chicken coop since the weather turned cold and wet. Hopefully things will dry out and warm up so we can continue painting and finishing it up.
I finished…
Stranded by Lorena McCourtney – Another adventure with Ivy Malone and her new friend Abilene. When their RV breaks down in Hello, Colorado, Ivy ends up being invited to stay in the house where a murder recently occurred. Even though the town is convinced that Hiram's niece Kelly did him in, Ivy is not so sure. Before long her curiosity gene leads her to more suspects than she can count. As she searches for clues, she finds more and more secrets revealed. And there might even be love in the crisp mountain air, too!
Four Mile by Watt Key – I've been putting off reading this book even though I loved Key's first book, Alabama Moon. Looking at the cover and reading the blurb on the back, I suspected this would be a sad book. It was sad in many parts, but I also found it inspiring and hopeful. Foster and his mom have not been able to keep up with the farm since his dad's death. The cows have been sold, the barn roof is leaking, the hay is molding. Foster is afraid of his mother's boyfriend, Dax, too. Then a stranger comes walking up the road who offers Foster the first glimmer of hope he's felt in a long time. The stranger–a former Iraq soldier–mentors Foster and offers protection from Dax. It's not long before resentment simmers and then explodes. I don't read enough Westerns to make the connection myself, but the author's note in the back explained that Key wanted to write a modern story using the structure of traditional Westerns–complete with a shootout at the end.
I'm currently reading…
John: The Gospel of Light and Life by Adam Hamilton – In our Bible study last week we discussed the I Am sayings of Jesus–what powerful metaphors still today. Our discussion explored the many ways to experience Jesus as the bread of life. This week's readings focus on Jesus's last words to his disciples. Again, much to ponder.
Inheritance by Christopher Paolini – I finally gave in and grabbed the last book in the Eragon series. I enjoyed the first three, but gave up when the trilogy turned into four books (and took awhile for that last one to be published). I've just gotten started, but I am glad it begins with a summary of the story from the first three books. It's been awhile since I've read them, and the summary was just enough to call back to mind the major characters and events. This one starts with a bang–right in the middle of battle.
My America: A Poetry Atlas of the United States, selected by Lee Bennett Hopkins and illustrated by Stephen Alcorn – I finally got back to reading these poems. I enjoyed my poetic tour of the mountain states. Now I'm headed to the Southwest. It's amazing how a few lines can evoke such strong images and feelings tied to particular places.
Coming up…
I did make it to the library this week. Here is the stack of books I came home with.
The Secret Chord (King David) by Geraldine Brooks – Sinner (more Cole and Isabel from the Shiver series) by Maggie Stiefvater – Ten (modern retelling of Agatha Christie's Ten Little Indians) by Gretchen McNeil – Inheritance (dragons) by Christopher Paolini
What have you read this week?
Disclosure: I participate in the Amazon Associates Program. If you decide to make a purchase by clicking on the affiliate links, including in the linked picture above. Amazon will pay me a commission. This commission doesn't cost you any extra. All opinions are my own.