It's Monday! What are you reading? Is a meme started by Sheila at Book Journey and now hosted by Kathryn at The Book Date. Kellee and Rikki at Unleashing Readers and Jen at Teach Mentor Texts gave the meme a kidlit twist. It's a great way to reflect on what you've read and reviewed the last week and plan what you want to read next. Join up with us and discover what good books other people are reading.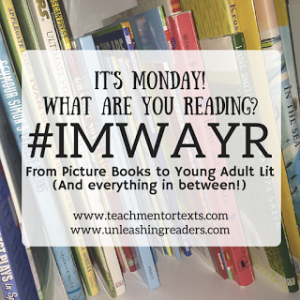 I finished…
Nothing! That's what I get for starting with the biggest book in my stack this week. We also worked hard on the chicken coop. It's painted inside and out. The biggest job, though, was putting up the fence for the run. Someone gave us 10-foot fence panels to use. We just had to figure out how to put them on a sloping hillside  while keeping them level. We also dug a 1-foot trench beneath each one to add hardware cloth below to keep critters from digging under it. The piles of mud were heavy to shovel,, but the fence is up. We have a few finishing touches to complete,, but we're almost ready for chickens!
I'm currently reading…
Inheritance by Christopher Paolini – It didn't take long get absorbed back into this story of dragons and riders and epic battles between good and evil. Eragon and his dragon Sapphira are determined to fight with the Varden to defeat the evil Galbotrix even when the odds seem insurmountable. So far, this last book in the series is packed with action on and off the battlefield and some surprising twists and turns.
John: The Gospel of Light and Life by Adam Hamilton – We are moving through Jesus' last words to his disciples (both those past and present and future) into the story of his trial and crucifixion. As we read and discuss together, I am seeing more and learning more from the Gospel of John. I love how Hamilton points out John's use of small details to make a larger point.
My America: A Poetry Atlas of the United States, selected by Lee Bennett Hopkins and illustrated by Stephen Alcorn – I had hoped to finish this book this week, but it didn't happen. I'm still enjoying my tour of the scenic countryside through poems about the different states.
Coming up…
I still have the rest of my library stack to dive into after I finish Eragon, but I'm not sure how far I'll get. I'm chaperoning the high school orchestra group on their trip to Washington, DC, over the weekend. I don't expect to have much time to read, even on the bus since we are travelling overnight and I will need to try to sleep.
What have you read this week? Anything good I should check out?
Disclosure: I participate in the Amazon Associates Program. If you decide to make a purchase by clicking on the affiliate links, including in the linked picture above. Amazon will pay me a commission. This commission doesn't cost you any extra. All opinions are my own.