It's still November so that means it's still Picture Book Month! I made another trip to the library to find enough picture books to finish out the month. This time my husband went with me and complained that he couldn't find me. I really wasn't hiding. It's just much easier to scoot along the floor while I pull picture books off the shelves to peruse before checking them out. Here are six of the treasures I brought home. The rest will be in a later post.
Jumanji by Chris Van Allsburg (Houghton Mifflin Company, 1981) – I'm embarrassed to admit it, but I had not read this one before now, nor seen the movie. As with other Van Allsburg books, the black and white drawings drew me in until I felt like I could step right into the story. Though I'm not sure I would want to fall into this story (or game) with roaring lions, stampeding rhinos, and lost guides. I do want to see how the movie captures the story on the big screen.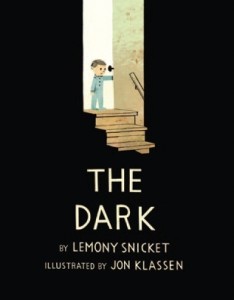 The Dark by Lemony Snicket, illustrated by Jon Klassen (Little Brown and Company, 2013) – This one belongs on my shelf next to Mercer Mayer's There's a Nightmare in My Closet (except I have to return it to the library). Laszlo is afraid of the dark, especially when it's at home in the basement. Then one night the dark invites Laszlo into its home and Laszlo is no longer afraid of the dark. The angles of dark shadows and light play throughout the illustrations.
The Little Red Pen by Janet Stevens and Susan Stevens Crummel (Harcourt Children's Books, 2011) – The Little Red Pen is determined to grade all the papers stacked on the desk, but the rest of the office supplies are too afraid to come out of the desk drawer. Only a catastrophe–Little Red Pen falls into the "Pit of No Return"–brings scissors, eraser, pencil, ruler, stapler, and the rest out of hiding to keep the sky from falling and the world from ending. If they can just quit arguing and work together, they might get those papers graded after all. Now why couldn't my office supplies have been that helpful?
The Frog Prince Continued by Jon Scieszka, paintings by Steve Johnson (Viking, 1991) – As soon as I saw Jon Scieszka's name on the cover, I knew I was in for a fun ride. Life is not happily ever after in the castle. The Frog Prince and his princess just can't get along now that the royal wedding is over. The Frog Prince decides he was happier as a frog and sets off in the woods to find a witch to change him back. He meets witches aplenty, but none of them go with his story. After some close calls, he makes it back to the castle where another kiss gives a twisted ending.
The Three Litlte Pigs and the Somewhat Bad Wolf by Mark Teague (Orchard Books, 2013) – What happens when you mix three pigs (one hungry for potato chips, one hungry for sody-pop, one hungry for books) with one hungry (but really not so terrible) wolf? A delightful twist on the old fairy tale. I'm not sure which made me laugh more–the twists in the story or the illustrations that reveal some very unpig-like pigs.
Library Lil by Suzanne Williams, illustrated by Steven Kellogg (Dial Books for Young Readers, 1997) – This whopper of a tall tale starts with Lil's origins (she was born with a book in her hands) and continues through her exploits as the librarian of Chesterville. She has her work cut out for her because the people of Chesterville much prefer television to books. Just when a thunderstorm knocks out all the power, Lil is ready to turn a town of couch potatoes into readers. Then Bust'em Up Bill zooms into town on his motorcycle. Will he be any match for our fearless librarian? This hilarious adventure is just the thing for all those super librarians I have known and worked with, who do indeed move mountains to get the right book into the right kid's hands at the right time.