It's Monday! What are you reading? Is a meme started by Sheila at Book Journey. Kellee and Rikki at Unleashing Readers and Jen at Teach Mentor Texts gave the meme a kidlit twist. It's a great way to reflect on what you've read and reviewed the last week and plan what you want to read next. Join up with us and discover what good books other people are reading.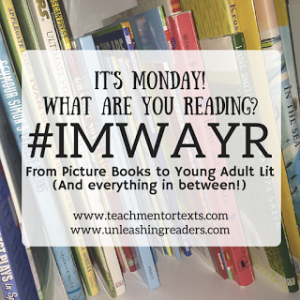 I haven't finished very much this week, but I've been reading lots of different texts–magazines, websites, newspapers. As you can see from my books below, I'm in the middle of quite a few books, too. I'm also trying to get back in the habit of writing regularly in a journal. I even managed to write a poem for Poetry Friday this week:
I finished…
The Anatomy of Curiosity by Maggie Stiefvater, Tessa Gratton, Brenna Yovanich – While I read the first two selections, I sometimes wished I could see the before and after drafts of the stories–or at least of particular sections. Brenna Yovanich provides multiple drafts of a story about drowning as she explores how she starts with an idea (in this case, events that happened in her real life) and develops it into a work of fiction. In between drafts, she shares her efforts to work through the process to get to the truth of the story. Each of the three writers have a completely different writing process, and I learned much from each of them.
I'm currently reading…
Learning to Walk in the Dark by Barbara Brown Taylor – I'm rereading this book since my Bible study group has chosen to read it. We had a good first discussion over our own experiences with both physical darkness and the portrayal of spiritual darkness. One of the things I enjoy most about this group is that we bring such different backgrounds with us and learn from each other. Even as I reread, I am still fascinated by facts about darkness that I didn't know. Did you know that there are three different moments of twilight?
Keeping the Sabbath Wholly by Marva J. Dawn – The chapters I read this week focused on the act of resting–not only physical rest, but also emotional, spiritual, and social rest. All are interconnected (and connected with ceasing from last week). It hit me today just how much the choices I make for one day each week can impact the rest of the week. I am exploring practices that help me to cease and rest on the Sabbath (observed on Sundays in my faith tradition). The one that has helped me the most is physically putting away work-related things on Saturday evenings. I pack up the computer and papers and shut the door on them. I am amazed at how putting them out of sight helps me not to fret over them on Sunday.
The Raven Boys by Maggie Stiefvater – It has been so hard for me this week as I read with my daughter because I know what's coming. I keep biting my tongue to keep myself from saying, "Pay attention. This part is important later." I don't want to give anything away. We finally read the chapter where the biggest revelation was made. (She almost guessed part of it, but was still shocked at the complete revelation.) I was impressed that she was able to catch it through the haze of medication she was under from getting her wisdom tooth cut out.
Raising Chickens for Dummies by Kimberly Willis and Rob Ludlow – Did you know that chickens don't have teeth or taste buds? Even so, they can be picky eaters (like toddlers or teenagers), picking out their favorite foods and not eating a well-balanced diet. In addition too reading about what to feed chickens, my husband and I attended a workshop on raising backyard chickens and selling eggs. We aren't interested into getting into the egg business beyond eating them ourselves and sharing with the neighbors, but we did meet several local people who own chickens and who offered to give us tours of their coops as we prepare for our own chicks.
Coming up…
While still waiting for my books to come available on Overdrive, I made it to our local library and found Gregory Maguire's After Alice. I had planned to start it while waiting during my daughter's wisdom tooth surgery, but I couldn't focus. I flipped through magazines instead and found a new recipe I copied down to try later. I even found a book I'd like to get for Anna's graduation, but didn't have time to write it down, so I hope I can find a book by Patrice about auto maintenance for women. I'm going to be out of town in meetings four days this week, so I hope I can squeeze in some time with Alice.
What books are you reading this week?
Disclosure: I participate in the Amazon Associates Program. If you decide to make a purchase by clicking on the affiliate links, including in the linked picture above. Amazon will pay me a commission. This commission doesn't cost you any extra. All opinions are my own.