It's Monday! What are you reading? Is a meme sponsored by Sheila at Book Journey.  Kellee at Unleashing Readers and Jen at Teach Menor Texts gave the meme a kidlit twist.  It's a great way to reflect on what you've read and reviewed the last week and plan what you want to read next.  Join up with us and discover what good books other people  are reading.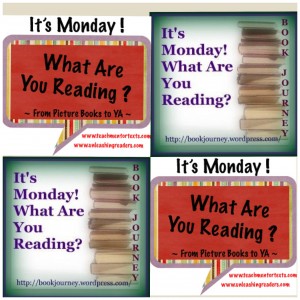 This week has been a little quieter, and I've finished some of the books I've been working on. I'm also working on another story assignment for a publlication that had me traveling across the state and meeting some fascinating people.  This week, I need to finish up interviews and write the draft of the story.
I finished…
Confessions of a Murder Suspect by James Patterson – I'm still not sure what I think of this one.  Tandy, the narrator comes across as a bit annoying and stand-offish, but at the same time I was fascinated by her.  I was satisfied by the ending, but there are enough loose threads left to lead to sequels.
Pucker Up by Rhonda Stapleton – I had been putting off reading this one even though I enjoyed the first book in the series, Studid Cupid.  For someone reason, I never got a copy of the middle book in the series.  No matter, I had no problem following the skip in the action, and it is a fun read–full of a comedy of errors that results from putting a high school girl (who doesn't like reading the instruction manual) in charge of sending Cupid's arrows to pair up couples at her school.
The Complete Idiot's Guide to Publishing Children's Books by Harold D. Underdown – This book is littered with sticky notes that I now need to record (in the form of web bookmarks, mostly) before returning it to the library.  It gives a fascinating and informative look at all aspects of the publishing process for children's books.
I'm currently reading…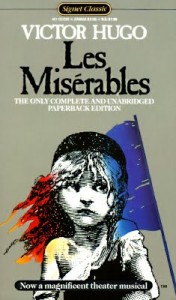 Les Miserables by Victor Hugo – I am making progress–now I'm up to 75%–but it is slow.  I am glad this tome is on my Kindle app so I don't have to lug around the book, but I only pick it up when I am waiting in the car somewhere.  I'm hoping the action picks up as the different groups come together during the riots surrounding the beloved general's funeral
Secrets of Writing High-Performance Business-to-Business Copy(AWAI) – I'm on to chapters 2 & 3 for my class.  The good news is I did well on my first assignment, and I enjoyed doing this type of writing.
Coming up…
I need to choose a new audio book to keep me company on my runs this week.  I have several to choose from that I downloaded from Sync YA this summer. I think I'll load up Forgive Me, Leonard Peacock by Matthew Quick. I know I've heard good reviews of it, but I can't remember what it is actually about. I'll be surprised. I'm not sure what else I'll pick up, but it's bound to be something good.
What are you reading this week?