It's Monday! What are you reading? Is a meme sponsored by Sheila at Book Journey.  Kellee at Unleashing Readers and Jen at Teach Menor Texts gave the meme a kidlit twist.  It's a great way to reflect on what you've read and reviewed the last week and plan what you want to read next.  Join up with us and discover what good books other people are reading.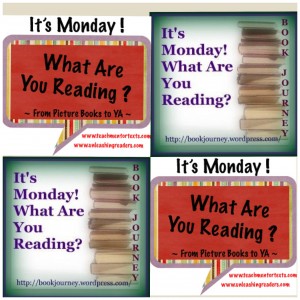 Once again, my reading took another unexpected turn.  Last Saturday, my daughter suffered a concussion during a soccer game.  What happens when you take a high energy, active, intelligent girl and take away all screens (television, computer, ipod, phone), take away reading and writing and even listening to audio books for a week?  You have a girl who is desperate to escape boredom but can't do much of anything.  Once the worst of her symptoms passed, she begged me to read to her. Leery of taxing her brain too much, (Mental and physical rest is the cure of choice for concussions), I read aloud some of our old, favorite picture books, without showing her the pictures.  Much of what I read this week came from that.
I finished….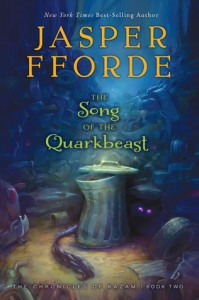 Song of the Quarkbeast – Combine a dash of magic, quirky characters, and off-the-wall humor for a rollicking good story where the fate of the Ununited Kingdoms once again rests in the capable hands of foundling Jennifer Strange, who just happens to be the acting manager of Kazam Mystical Arts.  Click on the picture to check out my review.
B2B Business-to-Business Quick Start Guide by Steve Slaunwhite, Ed Gandia, Pete Savage for AWAI – I'm signed up to take a class on B2B copywriting next week, and I'm trying to read as much as I can before the class starts so I can get more out of it.
Picture books I read to my daughter (who still loved them as a sixteen-year-old):
Love You Forever by Robert Munsch, illustrated by Sheila McGraw
Mud Pie Annie by Sue Buchanan and Dana Shafer, illustrated by Joy Allen
You Are Special by Max Lucado, illustrated by Sergio Martinez
Sweet Clara and the Freedom Quilt by Deborah Hopkinson, illustrated by James Ransome
The Day the Crayons Quit by Drew Daywalt, illustrated by Oliver Jeffers
The Golden Sandal: A Middle Eastern Cinderella Story by Rebecca Hickox, illustrated by Will Hillenbrand
Yeh-Shen: A Cinderella Story from China retold by Ai-Ling Louie, illustrated by Ed Young
The Egyptian Cindrella by Shirley Climo, illustrated by Ruth Heller
The Rough-Face Girl by Rafe Martin,illustrated by David Shannon
I'm currently reading…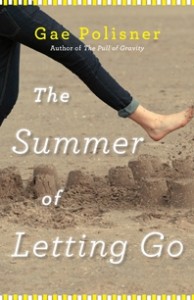 The Summer of Letting Go by Gae Polisner – Since my daughter enjoyed my reading favorite story books to her this week, she asked me to keep reading aloud to her before bedtime out of a novel.  Since she has been symptom free all weekend, I told her I would if I could pick the book.  She knew I was going to pick this one (I've been bugging her to read it all summer), and I know she's going to love it.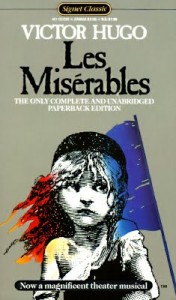 Les Miserables by VIctor Hugo – I'm still making slow progress.  I'm stil lin the riots following the general's funeral. There's a lot of talk and action in many different parts of Paris.  I suspect it all happened much quicker than the lengthy description of it all.
The Complete Idiot's Guide to Publishing Children's Books by Harold D. Underdown – Much of the information I've read this week I've picked up from following the blogs of different authors the past few years, but it is helpful to have it outlined in one place with all the possible variations.  I knew publishing was complex, but not just how complex until seeing it all in one place.
Secrets of Writing High-Performance Business-to-Business Copy – This is the text for the class I start this week.  As I get into it, much of the information is clicking into place and starting to make sense.  Even though the terminology and focus is different, I recognize many of the writing principles as lessons I taught my middle school students.
Confessions of a Murder Suspect by James Patterson – I had hoped to get through with this one, but I didn't quite make it.  Tandy is remembering secrets that she had blocked from memory and discovering secrets about her family, but she is no closer to discovering who killed her parents.
Coming up…
This week will be busy with writing (I get to go on a road trip for an interview tomorrow!) and my class, but I hope to finish up some of the books I'm reading and dig into the stack of YA books I've been putting off through the summer. Which one should I read first?