It's Monday! What are you reading? Is a meme started by Sheila at Book Journey and now hosted by Kathryn at The Book Date. Kellee and Rikki at Unleashing Readers and Jen at Teach Mentor Texts gave the meme a kidlit twist. It's a great way to reflect on what you've read and reviewed the last week and plan what you want to read next. Join up with us and discover what good books other people are reading.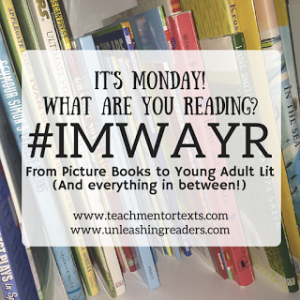 My husband's goal while I was gone was to keep the girl, the dog and the chickens alive. He succeeded on all counts. Even though I was glad to get home to see him and our daughter (and the dog, too), I was really excited to meet the chickens. I confess I'm spending too much time just hanging out with them and watching them. They are fascinating. They seem to be settling in pretty well, but they aren't too sure about this going outside thing. I hope they will warm up to it once they get used to it. I hope we have eggs in a few weeks, too.
I finished…
Four by Veronica Roth – I loved these stories that tell more about Tobias, better known as Four in the Dauntless faction. The first three stories all take place before Divergent begins. Even though I knew most of the big picture from Divergent, I enjoyed seeing the events unfold. I also enjoyed the last story, which happened in the middle of Divergent. This time, though, the story is told by Four. He definitely saw things differently than Tris. If you are a fan of the series, I recommend this collection just for the opportunity to revisit that world.
I'm currently reading…
Library of Souls by Ransom Riggs – Once again, I am amazed at how Riggs weaves this incredible story that ties together unbelievable pictures. The Peculiars are in dire trouble, and only Jacob and Emma and MacHenry are free to help them. They might be getting some help from a shady ferryman, but they aren't entirely sure they can trust him. Come to think of it, I'm not too sure about him, either. I am sure that the rest of the story will keep me turning pages. Even better, my daughter shared our love of this series by lending the first two (Miss Peregrine's Home for Peculiar Children and Hollow City to a friend. I hope she likes them as much as we do!
Nudge by Leonard Sweet – I didn't read much this week, but one quote stuck with me in the midst of the vitriolic political conversations and even the disagreements which threaten to split the United Methodist church (which just held its General Conference: "The issue is not to avoid controversy or argument. The issue is for nudging to foster dialogue more than discussion. 'Our duty is not to see through one another, but to see one another through.' How many of us, when we come away from a conversation (or a sermon), come away with agreement or disagreement, like or dislike? Or do we come away with new insights, fresh understandings, refreshed connections, and varied ways of looking at things, regardless of whether there is agreement or disagreement?
Coming up…
A neighbor came by and dropped off a box of books for my Little Free Library. I spotted several I would like to read before a put them out. I can't wait to read and pass them on!
Disclosure: I participate in the Amazon Associates Program. If you decide to make a purchase by clicking on the affiliate links, including in the linked picture above. Amazon will pay me a commission. This commission doesn't cost you any extra. All opinions are my own.