It's Monday! What are you reading? Is a meme sponsored by Sheila at Book Journey.  Kellee at Unleashing Readers and Jen at Teach Menor Texts gave the meme a kidlit twist.  It's a great way to reflect on what you've read and reviewed the last week and plan what you want to read next.  Join up with us and discover what good books other people are reading.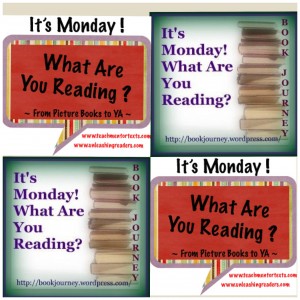 It may have been because I was procrastinating other things, but this was a good reading week for me.  I finished up several books that I had been reading for quite a while and started several others.  Now if I can just crank up the writing to match for this coming week!
I finished…
Code Name Verity by Elizabeth Wein – I finished this last Monday morning.  The audio was excellent, but I am glad I had read the text first.  Hearing the words after reading them highlighted details that I missed or sped through when I first read it.  I defnintely want to read Rose Under Fire.
2014 Children's Writer's & Illustrator's Market edited by Chuck Sambuchino – Okay, confession time.  I didn't read every description of every publisher, agent, and magazine, but I did glance through them and looked up a few using the subject and age level indexes.  Once I get my writing going, I will want to invest in a yearly subscription to refer to.  I learned much from the articles and interviews in the first half of the book.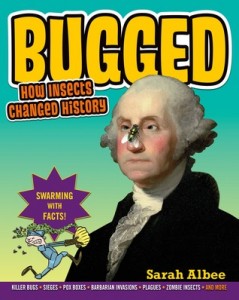 Bugged!  How Insects Changed History by Sarah Albee – My view of history will never be the same.  It's too bad that history textbooks can't have this much fun with history.
Anne of Green Gables by L.M. Montgomery – Anne Shirley kept me good company this week as I ran, mowed, cleaned, and canned salsa.  This story has long been one of my favorites that I revisit again and again.  I enjoyed listening to Anne's scrapes and kindred spirits and imaginative stories just as much as reading them.  Of course, now I want to go back and read the rest of the series.
Heaven is for Real by Todd Burpo and Lynn Vincent – I didn't intend to reread this book this week, but it was lying around and I found myself picking it up. (My husband's Sunday School class is getting ready to start it.)  Once again I found myself captivated and wondering at the experiences of this little boy.
I'm currently reading…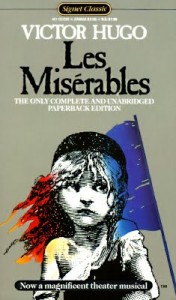 Les Miserables by VIctor Hugo – I'm up to 70% of the way through despite getting bogged down in another detour, this one about slang and a history of language and politics.  I would have found the sland discussion interesting, but my French is not good enough to get the points he was making.  I don't think the English translation caught the whole of it.
Murder at the Vicarage by Agathy Christie – I also downloaded this title from Sync YA over the summer.  I love Agatha Christie mysteries. Even though I very likely read it long ago, I don't remember the end, so I get to enjoy it all over again–and it is a Miss Marple mystery.  She's my favorite.
And the Mountains Echoed by Khaled Hosseini – This is breathtaking so far.  I love how Hosseini's writing sweeps me out of my world and into one that is so very different.  After reading his books, I would love to see the country and people of Afghanistan.  I'm not sure I'm brave enough to visit in real life right now, but I am grateful that he shares his vision of it through his stories.
Coming up…
I will finish the books I'm in the middle of.  I also want to catch up with my blogging and writing in general.  I have a couple of books that a friend lent me that I'd like to pick up next. I am hoping for a productive week for both reading and writing!
What good books are you reading this week?