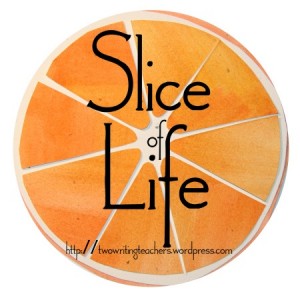 I'm taking part in the weekly Slice of Life Challenge sponsored by  Two Writing Teachers, where teachers write and share each Tuesday. Join in yourself or head over to check out what's happening with other slicers. If you're taking part in the SOL, leave a link to your post. I'd love to read it.
Poetry lurks in the most unexpected places.  Today my students went on a search for some found poetry among the books on my bookshelves to create book spine poetry.  I was amazed at the thinking going on as my students worked to put together book titles in surprising ways that still made sense.  We also got to practice revisions when students brought a stack of books that didn't make sense when we read the titles together.
I did this activity last year and created a photo gallery of their poems.  This year, I selected my favorites to create a movie.  I had to leave out some of my favorites because iMovie cut off the top or bottom book when I placed the photo.  I'll display some of those around school for us to enjoy.
)