This week when I headed to the library to find more picture books to celebrate National Picture Book Month (this month!), I was much more excited than nervous like last week. I sat down on the other side of the row of shelves and began browsing. Once again I found some familiar authors among the mix as well as brand new titles and authors (at least new to me). Here are the treasures I discovered this trip in no particular order.
The Light of the World by Katherine Paterson, illustrated by Francois Roca (Arthur A Levine Books, 2008) – I fell in love with Katherin Paterson's writing when I first read Jacob Have I Loved and The Same Stuff as Stars, so when I saw this picture book retelling the life of Jeus, I had to read it. The simple text is beautiful and graceful as it tells an old, old story with freshness. The full page pictures that complement the text are luminous. I wish I had had this book when my daughter was young.
Chester Raccoon and the Big Bad Bully by Audrey Penn, illustrated by Barbara L. Gibson (Tanglewood Press, 2008) – Chester's first story, The Kissing Hand, is one of the few picture books that my daughter has kept and still rereads. She was as excited as I was to see Chester's new adventure. This time a bully is disrupting school. Following Mama Raccoon's good advice, Chester and his friends take on the bully and find a new friend.
If You Give a Cat a Cupcake by Laura Numeroff, illustrated by Felicia Bond (Laura Geringer Books, 2008) – If You Give a Mouse a Cookie was a perennial favorite in our house at one time. How could I resist reading another adventure that spirals out of control just to circle back to the beginning? The humor in this series is brilliant. I want to give it a try just for the fun of thinking up all the possible scenarios.
The Boy who was Raised by Librarians by Carla Morris, illustrated by Brad Sneed (Peachtree Publishers, 2007) – Okay, how could I resist the title? Melvin grows up spending lots and lots of time in the public library. The three librarians–Marge, Betty, and Leeola–are always there to help him with whatever problem he faces (whether organizing and cataloguing insects or researching the motivation of an eggplant) because that's just what librarians do. I loved the ending, but I won't give it away.
Pirate's Guide to Recess by James Preller, illustrated by Greg Ruth (Feiwel and Friends, 2013) – When the recess bell rings, pirates take over the school yard. Soon the stormy seas are filled with the clashing of swords as Captain Red encounters fierce Molly and her crew. Clashing swords, walking planks, and mutinying crews fill recess with adventure. I love the action filled text and the imaginative drawings that emphasize creative play. A glossary of pirate terms on the end papers lead readers to their own pirate adventures.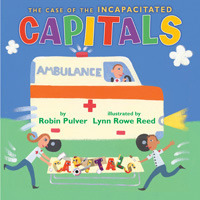 The Case of the Incapacitated Capitals by Robin Pulver, illustrated by Lynn Rowe Reed (Holiday House, 2012) – If there's a way to make grammar fun, this book might lead the way. Because the students in Mr. Wright's class have been forgetting to use capital letters correctly, the capital letters are growing sickly. Will the emergency medical team arrive in time to make things right again? This humorous story would be a good introduciton to (or reminder of) the importance of capital letters (and a history of how they got their other name–upper case letters).
The Butterfly by Patricia Polacco (Philomel Books, 2000) – Polacco draws on her family history to tell the story of a courageous mother and daughter from the French Resistance in Nazi occupied France during World War II. Monique first shares a secret friendship with the ghostly girl who visits her room at night and lives secretly in the basement. When they are discovered, Monique and her mother must act quickly to save the family. This book would be a valuable addition to any study of the Holocaust for any age.
The Little Drummer Mouse by Mercer Mayer (Dial Books for Young Readers, 2006) – Really, I'm not trying to rush Christmas, but I love Mercer Mayer! This retelling of "The Little Drummer Boy" puts a tiny mouse in the starring role. I enjoyed the story, but it was the paintings that really drew me in. I could get lost in in picture, looking for more and more details to surprise and delight me.
Canoe Days by Gary Paulsen, illustrated by Ruth Wright Paulsen (Doubleday, 1999) – Did you know Gary Paulsen had written a picture book that his wife illustrated? I didn't, but I'm glad I discovered it. The poetic text immerses you in the quiet stillness found floating in a canoe across the lake. The illustrations glow with a soft light that matches the peacefulness. Now I want to take my canoe and float down the river.
Jazz by Walter Dean Myers, illustrated by Christopher Myers (Holiday House, 2006) – This collection of poems echoes the rhythms of jazz as it explores the history of American's homegrown music. I found it hard to read without tapping my feel along with the poems. The introduction sets the stage with an overview of jazz's evolution. More information in the back defines jazz terms and gives a timeline of important musical events. The illustrations are filled with vibrant color and movement.
I can't wait until my next trip to the library. What picture books should I look for?