It's Monday! What are you reading? Is a meme started by Sheila at Book Journey and now hosted by Kathryn at The Book Date. Kellee and Rikki at Unleashing Readers and Jen at Teach Mentor Texts gave the meme a kidlit twist. It's a great way to reflect on what you've read and reviewed the last week and plan what you want to read next. Join up with us and discover what good books other people are reading.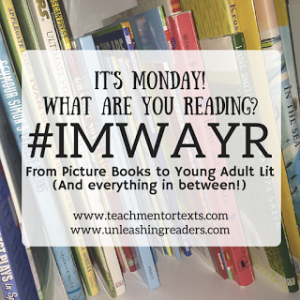 We've had the chickens almost two months! We are getting fourteen eggs a day now. If anyone comes through southern IN, stop by and grab and dozen eggs! We have plenty. So far I enjoy being a chicken keeper. They are so much fun to watch and definitely have favorite things. My hens love strawberry tops, spinach and corn. They are not as fond of squash (though the like yellow better than zucchini). They also enjoy scrambled eggs and fresh sawdust! We spread some sawdust out in the run where things have gotten quite muddy with all the rain. They immediately began to scratch in it and then roll in it to give themselves dust baths!
I finished…
The Fox Inheritance by Mary E. Pearson – A few years ago I read and enjoyed The Adoration of Jenna Fox, but I never got around to reading the sequel until now. Even though the story is set 260 years later, Jenna is still around (thanks to new biotechnology that raises all kinds of ethical questions). This story focuses on Jenna's friends Locke and Kara. Their bodies were destroyed in a car accident, but their minds were kept alive until new bodies could be created for them. With their new, improved bodies, Locke and Kara try to navigate a world that has left them far behind–and where they are illegal. Just like the first book, this one raises questions about what it means to be human and about how far you should go to keep someone alive. My surprise favorite character–the bot Dot.
Interesting Times by Terry Pratchett – Poor RIncewind the Wizzard just can't catch a break. The professors at the Unseen University send him off to the Counterweight Continent in response to an Urgent Request. Even though everyone knows Rincewind is an utter failure as a wizard, the waiting revolution (which has progressed to polite protest posters) thinks he is the answer. Through in a horde of geriatric barbarians (including Rincewind's old friend Cohen), violent luggage, scheming lords, a dying emperor and water buffalo and times are bound to get interesting. Now I definitely want to read more of Rincewind's other adventures.
Nudge by Leonard Sweet – As always, Sweet was both thoughtful and thought-provoking. After reading his thoughts on evangelism, I find myself slowing down to notice what God is already doing in the world. Some weeks, like this past week, it is hard to see it, but in the midst of horrible tragedy, there are glimpses of God to be found: in the tears and cries of people who say "enough. Let's do something, in the photo of white and brown bodies surrounding a baby in a stroller to protect it from gunfire, in words and acts of gratitude and compassion. I will continue to look for glimpses of God, and hopefully reflect God's image to those I meet.
I'm currently reading…
Walden by Henry Thoreau – I have been wanting to pick this up for awhile. I haven't read it since my college days. Many years later, I find that I missed much of Thoreau's humor the first time through. As I read now, I find myself chuckling or just thinking, "That's a funny zinger." I am also amazed at how much of what Thoreau wrote way back them applies even more today. I'm still in the first chapter, "Economy." This will be a slow read for me–no rushing to read chapters for class discussion or a paper or exam. This time I can read and reflect at my own pace!
Panic by Sharon Draper – I don't know how I missed this one when it came out, but I'm glad I found it on the library shelf. Diamond falls for the temptation to meet movie stars and audition for a part herself when she leaves with a stranger from the mall. She ends up living every parent's worst nightmare. The chapters switch from Diamond's point of view to those of her friends that are left behind worrying about what happened to her. Through it all, the friends share their passion for dance. Draper is not afraid to tackle tough issues, not only Diamond's abuse.
In Defense of Food by Michael Pollan – I've just started this one, but I'm enjoying it. We've been trying to eat better (not just always, but to support my daughter as she tries an anti-inflammatory diet). Fortunately, it's not too hard–eat more fruits and veggies, lean meat and reduce processed flour and sugar. Pollan's book goes right along with this. Eating shouldn't be that complicated, but we have made it so.
Mercy and Melons: Praying the Alphabet by Lisa Nichols Hickman – Did you know that several of the Psalms are acrostic poems? I didn't. I guess that got lost in the translation from Hebrew into English. Hickman takes that concept and writes twenty-six reflections. For each letter of the alphabet, she pairs an ordinary thing with an attribute of God–such as Advent and avocados . Pulling on memories and experience, she weaves the two seemingly disparate ideas into a thoughtful call to prayer. This next week I start with justice and Jello.
Coming up…
As you can see, I've been distracted with lots of new books to start. I should probable focus and finish some of them, but I've got more in my stack from the library that are tempting me to peek between the covers, and we're starting a new book for Bible study as well. We'll see if I finish any of them or just keep starting new ones!
What have you been reading this week?
Disclosure: I participate in the Amazon Associates Program. If you decide to make a purchase by clicking on the affiliate links, including in the linked picture above. Amazon will pay me a commission. This commission doesn't cost you any extra. All opinions are my own.