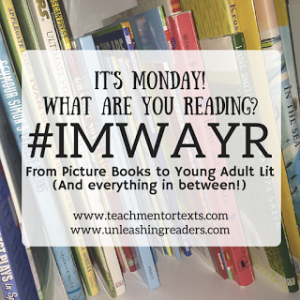 It's Monday! What are you reading? Is a meme started by Sheila at Book Journey and now hosted by Kathryn at The Book Date. Kellee and Rikki at Unleashing Readers and Jen at Teach Mentor Texts gave the meme a kidlit twist. It's a great way to reflect on what you've read and reviewed the last week and plan what you want to read next. Join up with us and discover what good books other people are reading.
The past month exploded and got away from me. First we celebrated my daughter's graduation from high school and all the fun of hosting family from out of state. While I enjoyed it, it didn't leave much time for reading. The in the midst of the celebrations, we also grieved the death of a good friend, and several work projects all came due at the same time. Now I'm stranded in NC at my mom's house while I wait for the transmission in the car to be fixed. At least it broke down in a good place–I have a comfortable bed, good food, and good company. Hopefully, I will make it home tomorrow. Meanwhile, I have read a few books, including two that I was able to read in long gulps of reading all day long.
I finished…
Library of Souls by Ransom Riggs – What a satisfying conclusion to this imaginative series. Just like in the previous two books, Riggs incorporates unusual, historical photographs into the story. The few Peculiars who are left free face daunting odds as they seek to rescue their friends and protectors before the masterminds behind the Hollows destroy Peculiardom for their own ends.  I will miss the world of the Peculiars now that it has come to an end, but I'm glad I can go back anytime into the books, and I'm looking forward to seeing what happens in the movie.
The Raven King by Maggie Stiefvater – Another stunning conclusion to a series I love. As Blue and the Raven Boys close in on their search for the sleeping king, the stakes grow ever larger. Blue sees no way to avoid the prophecy that has shadowed her entire life–she will kill her true love with a kiss. Now that she's met her true love, the prophecy is even more specific. Something is destroying the magic wood along the ley line and threatens to spill danger and doom and destruction out into Henrietta and beyond. Once again, I love how Steifvater weaves magic into our ordinary world.
Clockwork Angel by Cassandra Clare – I may be a mundane, but I love Cassandra Clare's world where Shadowhunters slay demons to keep us safe. I had read the original series (at least most of them), but had never journeyed back to Victorian London. Tessa Gray sails from America to London to join her brother, but she finds herself held captive and forced to learn a supernatural skill she didn't know existed. She escapes to the protection of the Shadowhunters who help her track down just who in Downworld is behind the plot. Of course, amid the danger lurks the possibility–or two–of love as Tessa is drawn to the dangerous Will and sweet James. Both boys hide deadly secrets. Even though the book comes to a satisfying end, there are enough hints of secrets and mysteries to come to make me want to grab the next book.
I'm currently reading…
Nudge by Leonard Sweet – I love Sweet's approach to evangelism in this book. Instead of hitting people over the head with your beliefs, live life in a way that invites people to want to know more. As I'm nearing the end, the chapters focus on using the five senses, but through it all is the underlying message of how we love our neighbor.  This quote from the chapter on aroma struck me: "A house that smells like Jesus,not because it says, "I'm your Christian neighbor," but "I'm your friend," is a house where you can smell the fresh aroma of the gospel. Flowers lose their scent while they're refrigerated. The aroma of Christ doesn't fare well when frozen. It needs to be baked and taken fresh out of the oven" (Sweet 267-8)
Interesting Times by Terry Pratchett – I'm back in Discworld with Rincewind the Wizzard, probably the most reluctant hero ever to walk through the pages of a book. The professors of Ankh-Morpork's Unseen University send him to the kingdom of the Counterweight Continent. There the rebels (who chant politely) expect him to lead them to victory. The lords want to arrest him before the Emperor dies and they fight for power. All Rincewind wants is a nice, boring life. At least Rincewind can count on his oldest friend, the elderly Cohen the Barbarian. I am still chuckling my way through these books.
Coming up…
Well, that depends on how long until I can get back home. I have several books waiting for me at home. I've also been eyeing some of my mom's books while I'm here.
What have you been reading this week?
Disclosure: I participate in the Amazon Associates Program. If you decide to make a purchase by clicking on the affiliate links, including in the linked picture above. Amazon will pay me a commission. This commission doesn't cost you any extra. All opinions are my own.