It's Monday! What are you reading? Is a meme sponsored by Sheila at Book Journey.  Kellee at Unleashing Readers and Jen at Teach Menor Texts gave the meme a kidlit twist.  It's a great way to reflect on what you've read and reviewed the last week and plan what you want to read next.  Join up with us and discover what good books other people  are reading.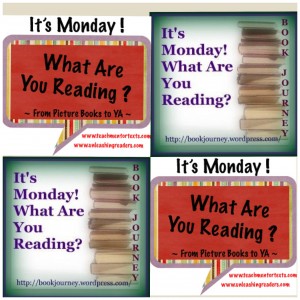 This was a week with unexpected journeys. It seems I will be a seasoned traveller and frequent flyer–at least for the month of January. This past week I flew home to be with family for my aunt's funeral. I enjoyed seeing cousins that I have not seen in way too long, but will miss seeing my aunt. Flying gave me the opportunity to read as well. I also enjoyed peeking to see what my fellow travellers were reading–thought that is much harder with ereaders. I should get some more good reading done next week as I fly to Fresno to facilitate at a conference.
I finished…
Lord of the Nile – I knew once I opened the next book in this series, it would't take me long ot read it. I am finding them quite addictive. Each book explodes with more conflict (everything is falling apart in both ends of Egypt) and ever more complicated characters. Joseph is struggling to hang on to his power and his life while the Pharaoh Salitis falls deeper into madness and powerful forces plot to bring him down. Oh yeah, he aslo struggles to forgive his brothers (who sold him into slavery) when they show up to buy grain. Meanwhile, Ben-Hadad lets bitterness eat him from the inside, pushing away his wife and Shobai's twins, who are growing to be better than he ever was. Ketan and Teti are on the verge of adulthood and learn of love and heartbreak. Many familiar characters are back, and we meet new ones. My favorite? Riki, a child of the streets who is destined for something. I'll have to wait until the next book to discover what.
Small Victories by Anne Lamott – I knew I wanted to read this one as soon as I heard about it even if I didn't know exactly what it was about. It ended up being the perfect companion for my journey home. Throughout these essays, Lamott explores grief, life and death, forgiveness, and our shared humanness with her signature wit and wisdom. I left it at home with my mom. I think she will enjoy it once her friend (another Lamott fan) finishes it. This is a book I want to put in the hands of people and hope it comes back to me. It is also a book I had to read with a pen in hand, with many passages to underline and comments to write in the margin. I hope others will do the same as they read it, too. It is a book that invites conversation.
How to Make Meetings Work by Michael Doyle and David Strauss – I finished this one on the plane ride home. Published in 1976, some of the information is dated (though some of their predictions about future technology sound eerily familiar to today). Much of the information seems obvious to me after years in the classroom, but I learned from seeing the principles in different contexts.
I'm currently reading…
By the Book edited by Pamela Paul – I enjoyed several more essays this week–David Eggers, Colin Powell, Richard Ford, Elizabeth Gilbert. I was not familiar with David Eggers, but I will be looking for his books after reading about his work with young writers. I wanted to shout "Amen!" when I read how he encourages young writers with the freedom to write about any topic ("even flatulent hamsters"–I had middle schoolers who would have loved that topic) and to keep the writing fun. The conventions can come after you've hooked them on writing. He gave a similar answer to reading recommendations. No one book is right for every reader. Start with the reader's interest, not what you think is good for them.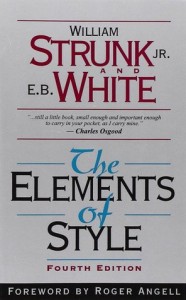 The Elements of Style by Wiliam Strunk and EB White – I meant to finish this in time for a discussion on Thursday, but when my travel plans ensured that I would miss the live discussion, I moved this one to the back burner. I plan on taking this book with me on my next journey if I don't finish it before then.
Coming up…
I am looking forward to starting the next book in the Children of the Lion series (The Prophecy). I can't quite decide what else to take with me on my trip. I have several good books I received for Christmas I want to read, as well as some books I discovered when I cleaned out a bookshelf last week. I had forgotten that I even had some titles. Oops!
What have you read this week?