It's Monday! What are you reading? Is a meme started by Sheila at Book Journey and now hosted by Kathryn at The Book Date. Kellee and Rikki at Unleashing Readers and Jen at Teach Mentor Texts gave the meme a kidlit twist. It's a great way to reflect on what you've read and reviewed the last week and plan what you want to read next. Join up with us and discover what good books other people are reading.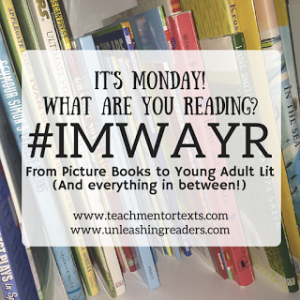 It's starting to feel real. This week we have begun the countdown for graduation (for my daughter). My mom has been here for the week to celebrate with us at the Academic Banquet that honors the top 20 seniors and top 10 students in the other classes. Then this weekend we shopped for graduation party supplies and got the invitations and announcements ready to put in the mail. I find it hard to believe that my girl will graduate from high school at the end of this month. It seemed just like yesterday she walked up by herself to the first day of kindergarten.
I finished…
Enough Bull by David Trahair – While this book had some good advice for retirement planning, I found it disappointing overall. That may be primarily because he focuses on Canadian tax retirement issues, which don't transfer directly to the U.S. He focuses on safety above all, and the warnings against taking on debt to invest in high risk options applies across all borders. I'm just willing to take on a little more risk than only government insured accounts.
I'm currently reading…
Going Postal by Terry Pratchett – A long time ago when I first started teaching, a student told me about Pratchett's Disc World novels. I thought they sounded incredible, but never got around to reading any. I grabbed Going Postal from the library and am loving it. Moist Van Lipwig has never done an honest day's work in his life, but when drops through a trapdoor with a noose around his neck, he lands in a government job with the postal service. For some strange reason, he takes on the challenge of restoring the post office to a functional service–despite having little help, sliding down mounds of letters (that may be talking to him) and taking on the evil clacks conglomerate. I love the surreal world where things that shouldn't make sense almost do. I will be going back for more Pratchett. Does anyone know, do I need to read the Disc World books in order, or can I dive in and out however I find them?
Coming up…
I still have Night Circus on my stack, as well as Big Magic. More good reading coming my way!  What have you read this week?
Disclosure: I participate in the Amazon Associates Program. If you decide to make a purchase by clicking on the affiliate links, including in the linked picture above. Amazon will pay me a commission. This commission doesn't cost you any extra. All opinions are my own.