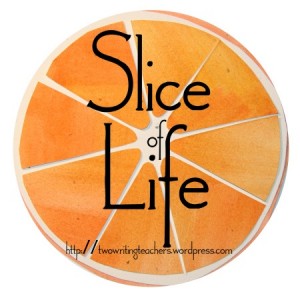 I'm taking part in the weekly Slice of Life Challenge sponsored by  Two Writing Teachers, where teachers write and share each Tuesday. Join in yourself or head over to check out what's happening with other slicers. If you're taking part in the SOL, leave a link to your post. I'd love to read it.
I can't stand for my fingernails to get very long, but I love to paint them.  Whether my fingers are clicking over the keyboard or tapping impatiently on the counter, seeing the brightly colored shellac makes me smile.
Most Sunday afternoons find me sitting at the kitchen counter.  The television shows off new and remodeled houses in the background.  In front of me I spread out my supplies:  a paper towel, Q-tips,  a little polish remover, clear base and top coats, and the color du jour.  This Sunday it's a deep purple from my daughter's giant toolbox of nail polish.  While I wait for coats of polish to dry, I flip through the Sunday paper or read a few pages in my current book.
If I'm lucky, my daughter will further decorate my nails with the nail stamps she got for Christmas.  At first, I wasn't too sure about this system, but I definitely would enjoy having cool designs on my nails.  The hardest part is choosing what design I want.  The girl has hundreds of stamps with thousands of designs:  flowers, Disney characters, snowflakes (we've had enough of those, thank you), holiday icons, and more.  This week I chose music notes.  With a few swipes and a few rolls, she added music notes to my purple nails.  Now I will be smiling for sure.
If you are interested in learning more about stamping nails, check out this video: