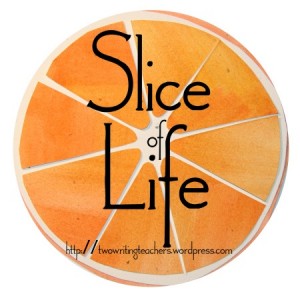 I'm taking part in the weekly Slice of Life Challenge sponsored by  Two Writing Teachers, where teachers write and share each Tuesday. Join in yourself or head over to check out what's happening with other slicers. If you're taking part in the SOL, leave a link to your post. I'd love to read it.
When I got up this morning, the first thing I did was peek out the windows.  Nope, no snow yet.  The yard looked wet, but not too frozen with the temperature hovering right around the freezing point.  Over breakfast comes the frequent discussion from this winter:  Do we try to drive into to church?  The roads don't look icy yet, but all the forecasts say it is coming, and quickly.  Then we get the text, "10:30 services cancelled.  Call the people who sit near you and let them know."
Now the day stretches before me with nothing to do but snuggle up with my family and stay warm at home.  I somehow graded and recorded all the homework and quizzes I brought home yesterday, and lesson plans are written (probably pointless since we may miss more school), so today is mine.  What will I do?  Probably not all of these, but I girl can dream big!
Write!  I have several book reviews to catch up on and a poem tugging at my pen.
Capture memories in my scrapbook.  Maybe I can finally get those pictures from 2010 glued down.
Ride nowhere on the exercise bike.  Actually, I'll probably visit far off lands while I pedal in place.
Cook a big pot of butternut squash soup (my husband's favorite) as long as we don't lose power.  If we do, maybe we'll try out the new smoker.
Can I talk someone into playing board games, too?  Or putting together a puzzle?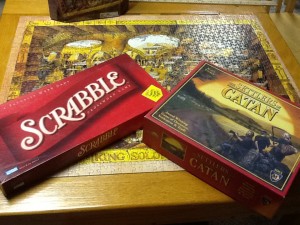 Of course, I have to redo my nails and maybe even talk my daughter into jazzing them up with her new nail stamps.