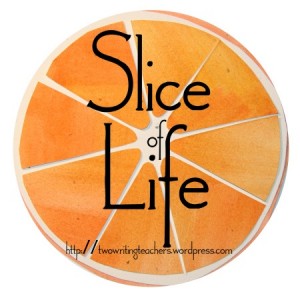 I'm taking part in the weekly Slice of Life Challenge sponsored by  Two Writing Teachers, where teachers write and share each Tuesday. Join in yourself or head over to check out what's happening with other slicers. If you're taking part in the SOL, leave a link to your post. I'd love to read it.
I have been wanting to read Donalyn Miller's Reading in the Wild ever since I heard she was writing it.  Reading her earlier book The Book Whisperer impacted my teaching in ways I am still counting, and I suspected that this new book would do so as well.  I was right.  My brain is spinning with ideas that I can take to make my teaching–and my students' learning–richer and deeper.
I also did something different while reading this book.  Friends on Facebook and Twitter had been sharing about a different way of note-taking  through doodling.  Even though I am not an artist, I wanted to try doodling my way to a deeper understanding.  I normally think in words and dialogue, so capturing ideas through images was quite a stretch for me.
I learned things about myself by reading and doodling this way.  It took me much longer to read this way–almost two months.  One reason for the slow trek was that I wanted long chunks of uninterrupted reading time so I could get through an entire chapter in one sitting.  Thank goodness for several snow days that gave me time to do so.  I also found that I wanted more time at the end of each chapter to process what I had read.  Looking back over my doodled notes, I am excited to see that they still make sense to me!
Here are my notes for each chapter and the ideas I am mulling over from each one.
Chapter 1:  Time is the central issue.  My students complain they don't have enough time to read (I can't wait to discuss edge times with them), and I complain I don't have enough time to teach.  We do find time for what we value.  I can't change the length of my class periods, but I can make choices on how to fill them with reading and writing lessons that I value.
Chapter 2:  I do many of the things in this chapter to promote books to my students, but too many of them are still too dependent on me to help them find books.  Here are ways I can encourage their independence and teach them the skills to take with them so they don't experience that lost feeling I felt when I moved from the children's room of my public library to the young adult and adult collections upstairs.
Chapter 3:  I share the books I love with other readers, especially my students, but how often do I give them the opportunity to share the books they love?  There are so many ways to share–face to face, online, displays, graffiti, and more.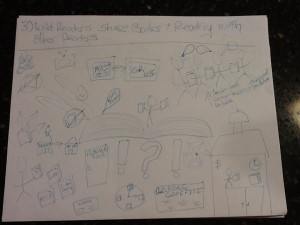 Chapter 4:  I often say that I have so many books I want to read that I can never die, but many of my students don't see past the last page of the book they are currently reading.  Summer will be here before we know it (in spite of the forecast for cold and even more snow).  Will my students be confident that they will find and have access to books over break?  How can I incorporate the cycle of planning and reflecting on reading throughout the year?
Chapter 5:  I know what my preferences are for reading.  How can I help my students discover their preferences?