The battle between the Nerd Girls and the ThreePees has finally gone too far.  Principal Mazer is determined to end the feud before any more damage is done.  (You should have seen the art room once the ThreePees attacked the Nerd Girls locked inside.). Now all six girls must work together to represent the Aardvarks at the Academic Septathlon.  If they don't pull together, there will be consequences.
What I love about this story is the quirky characters.  Meet the Nerd Girls and their nemeses.
Maureen hides her insecurities behind a sarcastic humor. In addition try planning revenge on the ThreePees, Maureen has problems at home.  Her missing-for-years dad has suddenly reappeared and wants to fill up some holes."  Somehow, she manages to inspire others without knowing it.  She just might be a leader
Beanpole is the enthusiastic cheerleader and peacemaker and total clutz. Even though her clothes are organized by temperature, she can't help but see the good in everyone.  Too bad it's not always there.  Besides on want her "Department Store Mom" to come take care off me.
Q is brilliant and stubborn.  She may be their secret weapon if she can survive her allergies and her attempt to cure herself.  She has a fascination with the rules and the word Aardvark.
Kiki, leader of the ThreePees, is the ultimate mean girl.  The only thing worse than having to work with the Nerd Girls is having to be beaten yet again by Wynston from Saint Dianne's.
Brittany follows wherever Kiki leads with the constant refrain of "My dad's a lawyer."
Sofes may not be the brightest crayon in the box, but she knows hair.  She also has a big decision to make That makes her my favorite character.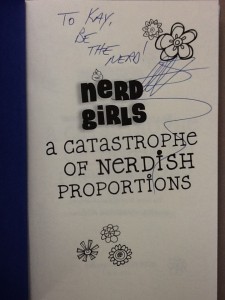 Now go get your nerd on and pick up a copy to read today.  Did I tell you my copy is even autographed?  Check it out!