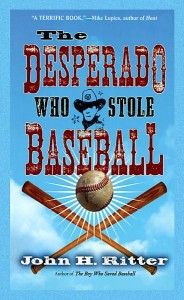 First there was The Boy Who Saved Baseball, where the future of an entire town depended on the outcome of a single baseball game.  Now there is the history of that town, where a baseball game determined not only the future of the town, but the future of baseball itself in The Desperado Who Saved Baseball (Puffin Books 2009). John H. Ritter tells a story that is part tall tale, part historical fiction, and all baseball.
Two unlikely characters meet up in the desert heading to the Wild West gold-mining town of Dillontown, California.  Jack may be just twelve years old, but he has more baseball sense than most grownups.  He is determined to lay claim to his long-lost uncle John Dillon and earn a spot on the Dillontwon baseball team.  Billy is none other than a desperate outlaw, who wants to find a home and peace of mind.
Now John Dillon has invited the best teams from across the country to play in Dillontown.  Now the National League Champions, the Chicago White Sox, are in town to play, and they will do anything to win.  Not only is their honor at stake, but the entire Dillontown and its gold mine are up for the winner.  Can a scrawny boy and a desperate outlaw team up to save themselves and a baseball town?