Growing up in North Carolina, I was always fascinated by the story of Sir Walter Raleigh's Lost Colony.  How could over a hundred men, women, and children just disappear without anyone ever finding any sign of them later?  No clues were left except the letters "CRO" carved on a tree and the word "CROATAN" carved on one of the fort's posts.  This summer, I vacationed on the North Carolina Outer Banks and got to revisit the Lost Colony on Roanoke Island.  We visited the Roanoke Island Festival Park, saw the fort's remains at the Fort Raleigh National Historic Site, and watched the outdoor drama at the Lost Colony Theater.  Of course, I picked up several books about the Lost Colony while I was there.
Roanoke The Lost Colony:  An Unsolved Mystery from History by Jane Yolen and Heidi Elisabet Yolen Stemple, illustrated by Roger Roth (Simon and Schuster Books for Young Readers 2003)
When I saw Jane Yolen's name on this picture book, I knew I had to have it.  I was not disappointed.  It invites you to become a detective to study the clues and develop your own theories about what happened to those missing colonists.  Straightforward text presents the facts of the story, with a focus on the main characters involved:  Sir Walter Raleigh, John White, Manteo, and Eleanor Dare.  Sidebars give additional information and define key terms.  I loved the illustrations, which which capture the flavor of Elizabethan England and show both the beauty and harshness of this new world.  The end presents five of the most popular theories to explain the disappearance of the colonists.  The best news of all?  This book is just one of a series of books which explores unexplained mysteries from history!
Cate of the Lost Colony by Lisa Klein (Bloomsbury 2010)
Lady Catherine may be an entirely fictional character, but her story weaves through life at court as one of Queen Elizabeth's ladies in waiting.  I would not have wanted to find my way through the political intrigue at court, but Lady Catherine manages quite well.  At least she does until she falls for the dashing Sir Walter Raleigh.  When their forbidden romance is discovered, Cate is thrown into the Tower of London until the queen banishes her across the ocean as a member of the new colony on Roanoke Island.  Cate is devastated to be torn from Sir Walter Raleigh, but she is excited to see this new world for herself.  Once there, she faces incredible beauty and hardship.  Unlike many of the colonists, she is eager to become friendly with the Croatan Indians who live nearby.  As her homesickness for England–and Sir Walter Raleigh–fade, she becomes intrigued with Manteo.  Might she find another love?  Lisa Klein explains in a note in the back which parts of this story are true, and which are not.
Roanoke Island:  The Beginning of English America by David Stick (University of North Carolina Press 1983)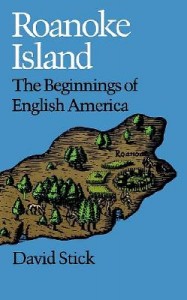 David Stick's book is the real history.  It is a comprehensive summary of the events leading up to and following Sir Walter Raleigh's Lost Colony. It is fairly readable for a more scholarly work, but it probably more than I really wanted to know.   Stick presents all the facts that are known, including later hoaxes that claimed to solve the mystery.  He stops short of drawing any firm conclusions as to what happened or why it happened beyond the implications for later English settlement of America.  I just wish there was some way to know for certain what happened to those English men and women. I would like to think (and some evidence suggests) that at least some of them survived and lived with the Croatan Indians or other groups.
Even though new clues are tantalizing, we will probably never know exactly what happened. I did find it interesting that none of the bookstores/gift shops carried Lee Miller's Roanoke: Solving the Mystery of the Lost Colony. I found her theories intriguing, though she definitely goes beyond stating the facts into a fascinating interpretation of those facts.