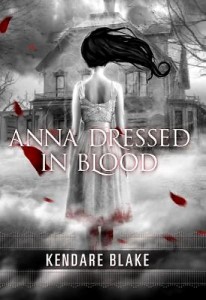 I listened to Anna Dressed in Blood by Kendare Blake with a free download from Sync YA.  I thoroughly enjoyed this romantic ghost story.  The nearer I got to the end, the more I found myself looking for mindless chores to do so I could keep listening!  The only downside to listening is I didn't have an easy way to mark the words and sentences that sang in my ear.  This is one audio that I will want to go back and read just to savor the language.
Cas is not your typical teenager.  Ever since his father was killed, he has taken on the family mission of sending on murderous ghosts with a slice of his athame.  His story opens with his "kill" of a murderous hitchhiker along a country road in my home state of North Carolina.  The real story, though, doesn't begin until Cas and his kitchen-witch mother move to Canada to track down a ghost known as Anna Dressed in Blood.  Anna Korlov is stronger and angrier than any other ghost Cas has encountered.  He also finds himself strangely drawn to Anna, wanting to defend her rather than kill her.  Woven through his current quest is the mystery of what killed his father.  Cas is determined to learn all he can before traveling back to Baton Rouge to avenge his father's death at the hands of some evil spirit if it doesn't get him first.  For the first time, Cas is not able to take down a ghost on his own.  He must draw on all his past resources as well as reach out to new friends, who make a very unlikely alliance.
Anna is one spooky girl.  She is dressed in a simple white dress that drips with her own blood.  For the past fifty years, she has killed anyone who crossed the threshold into her house.  She just doesn't kill them.  She rips them limb from limb.  Despite her violence, she spares Cas and struggles against the rage that gives her strength.  Thomas, a witch-in-training who is a social outcast at school, appears to be weak, but surprises himself with his courage and loyalty.  Carmel may be the prom queen with the student body in her back pocket, but she finds herself drawn in and drawn to the mystery of Anna, even when her friends are ripped apart.
Not only are there blood and guts aplenty in this ghost story, there are also quirky characters and snarky humor.