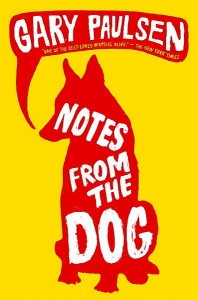 Are you looking for a book that's short, funny and by an immensely popular author? Gary Paulsen delivers all that and more in Notes from the Dog (Wendy Lamb Books 2009). I was expecting a fun read when I opened this book, but what I got was so much more.
Finn just wants to spend the summer alone, with no one to talk to but his dad, best friend Matthew, and his dog Dylan. That plan gets thrown out the window–or is it garden–when Johanna moves in next door. She hires Finn to create a garden for her, and before he knows it, Finn is doing things he never dreamed of including talking to total strangers and going on a date with the girl of his dreams.
Gardening may not be Finn's true talent. Misadventures with dirt provide lots of laughs. My favorite is when Finn accidentally makes the yard full of reconstituted cow poop. Through it all, though, someone sees something in Finn that he can't see for himself. The dog–Dylan–tells him so.
I found plenty of laughs as I read. I also found much more to think about as Finn as his dad discovere that they are no longer just a "family of men."