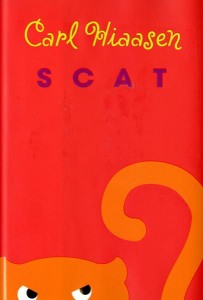 Carl Hiaasen is true to form in his latest book for YA readers. Scat provides an intriguing mystery, oddball characters, wacky humor, and the ever-present concern for the Florida Everglades.
Friends Nick and Marta are terrified of their tough biology teacher, Mrs. Starch. What kind of teacher assigns a 500-word essay on zits as punishment and insists that it be funny? (Maybe I should take notes on her style?) At first they are relieved when she doesn't return from the field trip to the Black Vine Swamp, but their relief turns to worry when the clues don't add up. Besides, they are not sure how many more days they can take of Dr. Wendell Waxmo, their substitute teacher who dresses as a clown and teaches the same page each day of the week regardless of subject.
Meanwhile, classmate Duane Scrod (the one assigned the zit essay) keeps showing up with the mysterious Twilly in Mrs. Starch's car. Throw in a hapless millionaire and a greedy oil man for bad guys and an abandoned panther kit who needs to be reunited with its mother and you have a gut-busting adventure waiting for you in the swampy Everglades.