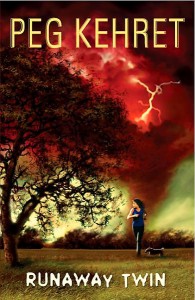 I love how Peg Kehret can take an ordinary situation and create a suspenseful story that I can't put down in Runaway Twin.
Sunny Skyland has dreamed of finding her twin sister, Starr, ever since they were seperated at age three. When Sunny finds a bag stuffed with $820, she now has the means to find her long-lost sister. She has a picture of the two of them with an address written on the back for her only clue.
Along her journey, Sunny encounters bullies, learns to trust in the kindess of strangers, picks up a stray dog, and survives a deadly tornado. But it is not until she finds Starr that the real challenges begin. Ultimately, Sunny must reconcile her fantasy with her reality and make a choice about her future.
Peg Kehret's books have been immensely popular with past students. Runaway Twill will fit right in.