It's Monday! What are you reading? Is a meme started by Sheila at Book Journey. Kellee and Rikki at Unleashing Readers and Jen at Teach Mentor Texts gave the meme a kidlit twist. It's a great way to reflect on what you've read and reviewed the last week and plan what you want to read next. Join up with us and discover what good books other people are reading.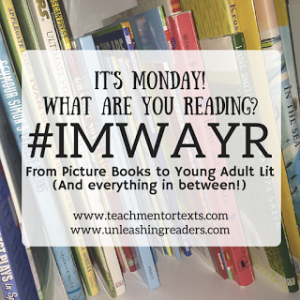 I wasn't sure I was going to finish any books this week, but I downloaded Towering to my Kindle while my husband was driving us home yesterday. I stayed up to finish it and swiped the last page just as the phone battery died!
I finished…
Towering by Alex Flinn – I went into this modern twist on Rapunzel expecting the humor I have come to love from Flinn. Instead, I find myself lost in the Adirondacks in the middle of a spooky tale. Wyatt moves to the isolated community of Slakkill, New York, to escape the memories of the tragic deaths of his best friends. He lives with a widow who still mourns the loss of her daugher 18 years ago. Wyatt is confronted by the ghost of the dead girl on his first night and hears a mournful song that no one else can hear. He also discovers that children have been disappearing from the area at an alarming rate. When he finally discovers the tower in the woods and meets Rachel (who saves him, by the way), he is determined to get to the bottom of the mystery. Rachel seems to be at the heart of it all. Rachel and Wyatt both tell part of their story, and I love the twists at the end.
I'm currently reading…
Soul Salsa by Leonard Sweet – So many more practical ideas to put faith into action throughout my life. Sweet makes the connections between faith and life seem obvious whether we are continually learning or getting or hands dirty. As I read this book, I am trying to go through each day with my eyes and heart open to God.
What Have You Lost edited by Naomi Shihab Nye – I finally got back in the habit of reading a poem for dessert after dinner each night (or at least most nights). My favorite poem this week is "Plum Trees" by Alison Seevak. I love the changing of the seasons in Indiana and can't imagine living without it. Seevak marks the passing of time in California (with no seasons) with the changes in the plum tree imagined as a woman in different stages of life.
Before Amen by Max Lucado – Of course, the books didn't come in until after I got home from our last Bible study, but we are still ready to begin discussing the first chapter this week. I'm excited to learn more about prayer as we read, study and pray together this week. I'm glad I'm not the only one who struggles with this "peculiar" practice and hope to learn to get better. I could relate to what Lucada describes as the "Prayer Wimps Assocation." I'm aiming to move closer to the "Prayer Warriors Association."
Atonement by Ian McEwan – This is a book to savor and to read slowly. The story is both beautiful and haunting. Even though the family (and close neighbors) live in the same household, each is lonely and isolated in their loneliness. Miscommunications and expectations have already built tension, but I'm reaching the point where I suspect relationships will break beyond repair.
Coming up…
It looks like I need to focus on the books I'm in the middle of and not get distracted by new (or old) books that come my way. I am, though, enjoying being able to take my time reading these days and not feeling rushed to get through more books.