It's Monday! What are you reading? Is a meme started by Sheila at Book Journey and now hosted by Kathryn at The Book Date. Kellee and Rikki at Unleashing Readers and Jen at Teach Mentor Texts gave the meme a kidlit twist. It's a great way to reflect on what you've read and reviewed the last week and plan what you want to read next. Join up with us and discover what good books other people are reading.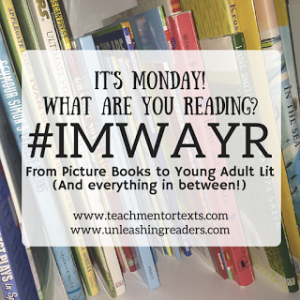 Our eating adventures have continued this week. I must say how proud I am of my daughter. She is a notoriously picky eater, but she as been open to trying so many new foods in order to improve her health. It's too soon to tell if the diet is having an effect on the amount of inflammation (and may be difficult to tell its effects from that of her medicine), but she has noticed an immediate improvement in how she feels–no more queasiness from medicine side effects. She's also thrilled that she's lost weight while eating more. I suspect all of us will be healthier. We've discovered new favorites like the Curried Roasted Chickpeas and Blueberry Turmeric Muffins and Banana Oatmeal Energy Bites. Others, like the roasted cauliflower were not so popular. In addition to enjoying good food, I also enjoyed several good books this week!
I finished…
Faithquakes by Leonard Sweet – I found lots to think about. It's true of most ages, but times are changing. Churches can learn to embrace the changes in the world or pretend they aren't happening or protest the changes. The changes keep on happening anyway. Even though this book was published a decade ago, many of the trends have only intensified. Some have taken unexpected (back then) turns, but for the most part Sweet's understanding of these times still ring true.
The Geography of You and Me by Jennifer E. Smith – Yes! Another quirky romance that springs from a chance encounter. I love these books by Smith. This time Owen (the building superintendent's son) and Lucy (privileged daughter of world-traveling parents) meet in an elevator. They would have probably ignored each other but they were trapped in the elevator when all the lights and power went out in New York City. They spent the evening exploring the city in the dark before their lives careened off in different directions, Lucy to Europe and Owen to the West Coast. While they spend most of the book apart, neither can forget the other. But can their relationship (whatever it is) move beyond postcards and ignored emails?
In Front of God and Everybody: Confessions of April Grace by KD McCrite – One of my students gave me this book when I was still teaching, and I finally got around to reading it. April Grace is a delightful narrator, full of humor and sass. Her summer just took a nose dive when new snooty neighbors move in next door. No matter how awful the neighbors are, April Grace's mamma and daddy insist on doing the right thing to help them out. Then her grandma has a new boyfriend, and no one will take April Grace's complaints seriously. Then her older sister Myra Sue is obsessed with being glamorous, just like the new neighbors. This is a quiet book–but also funny–that explores growing up in the country, the Ozarks to be exact.
I'm currently reading…
Enough Bull: How to Retire Well Without the Stock Market, Mutual Funds, or Even an Investment Advisor by David Trahair – This title caught my eye when I was browsing the new books shelf at the library. I'm not too worried about our retirement savings, but I figured I'd read this to see everything we're doing wrong. I haven't read very much, but Trahair seems to be quite contrary about conventional advice for retirement planning. I should enjoy it though I tend to mistrust people who claim to have all the answers and everyone else is wrong.
Coming up…
I finally made it back to the library. Since it's on the other end of town, I kept planning to go when I had errands up that way, but my daughter kept volunteering to do the errands for me. She wasn't volunteering to select books for me, though it might be interesting if she did. Here's the stack I got from the library, along with my copy of Big Magic that came in the mail this week. I suspect I will be jumping around so I can get started with more of these books!
What good books have you read this week?
Disclosure: I participate in the Amazon Associates Program. If you decide to make a purchase by clicking on the affiliate links, including in the linked picture above. Amazon will pay me a commission. This commission doesn't cost you any extra. All opinions are my own.