It's Monday! What are you reading? Is a meme started by Sheila at Book Journey and now hosted by Kathryn at The Book Date. Kellee and Rikki at Unleashing Readers and Jen at Teach Mentor Texts gave the meme a kidlit twist. It's a great way to reflect on what you've read and reviewed the last week and plan what you want to read next. Join up with us and discover what good books other people are reading.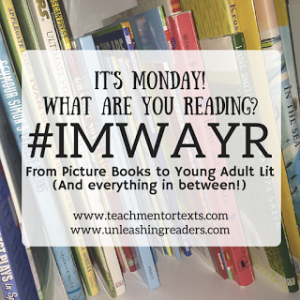 Blog posts this week…
I finished…
Simply Tuesday by Emily P. Freeman – I am learning to be content with small things, whether they be small beginnings or stops along the way. I am trying to remember to pull up a bench and invite others to sit down beside me. The hard part for me is giving up control. I like to plan and prepare and have things go my way, but slowly I am learning to trust that God's kingdom isn't measured by the same rules as kingdoms here on earth. I'm learning to look for God's kingdom breaking in on this world in the unlikeliest of people and places. This has been such a thoughtful book for me to read and discuss. I suspect it is one I will revisit later and find just as much to ponder.
Stella by Starlight by Sharon Draper – This book is what historical fiction should be! I fell in love with Stella–her struggle with writing, her willingness to work to get better at it, her bravery in the face of discrimination and violence, her love for her family and community. Draper captures what life felt like for a black girl growing up in a small, North Carolina town during the Great Depression. Life was hard and most definitely unjust, but it also was filled with love and community.
I'm currently reading…
Walden by Henry Thoreau – I finished the second chapter on where he lived. I loved his description of the pond and woods and views. I had to laugh at his recounting of the story where he almost became a landowner. From his accounts, it was a narrow escape! I'm not sure my husband appreciated it, since he would love to own more land. Part of me, though, agrees with Thoreau that the best part of any land is not that which you can own, but that you take in with your eyes and ears and nose and store in your memories. Of course, it is much easier to "simplify, simplify" when you don't have to worry about how to survive from one day to the next and have friends offer you land to build a shelter.
Moving Pictures by Terry Pratchett – This time Pratchett sends up Hollywood in a riotously funny account of Holy Wood. You see, the last priest who stood guard at the door that corralled Wild Ideas died without training a successor. Now that Wild Ideas are leaking out, people are drawn to Holy Wood, where the alchemists have perfected the process of making moving pictures. Will the wizards figure out what has happened and stop things before they get out of hand and destroy the world as they know it? I don't know, but it's bound to be a funny trip.
Coming up…
I've been putting off Nine, Ten. I've peeked into it, and I've read many reviews that praise it. I'm just not sure I'm ready to revisit that day. Can it really have been so long ago that it's the subject of historical fiction?
What have you been reading this week?
Disclosure: I participate in the Amazon Associates Program. If you decide to make a purchase by clicking on the affiliate links, including in the linked picture above. Amazon will pay me a commission. This commission doesn't cost you any extra. All opinions are my own.